Rhinoplasty surgery is not one size fits all. It is rightfully considered one of the most complex cosmetic surgeries. The right doctor will consider all of the widely varying factors from patient to patient – including, but not limited to – facial anatomy, prior surgeries, desired outcome, and realistic possibilities. However, similar to rhinoplasties, doctors are not one size fits all, either.
While nearly any plastic surgeon can perform a rhinoplasty, only a select few specialize only in facial cosmetic surgery and make rhinoplasty the cornerstone of their practice– and even fewer consistently deliver a natural-looking result. That's where Dr. Ovchinsky truly stands apart from the crowd. His expertise and dedication to successful, natural-looking, and beautiful results extends to every patient unconditionally. 
Not picking the right surgeon may leave you feeling unsatisfied, but in the worst situations it will leave you feeling worse than before. This patient, for example, underwent two unsuccessful rhinoplasties before consulting with Dr. Ovchinksy. While some minor postoperative imperfections might be understandable and completely acceptable, he was surprised to see a significant nasal deformity despite her last revision – and set out to give her what she'd wanted from the start.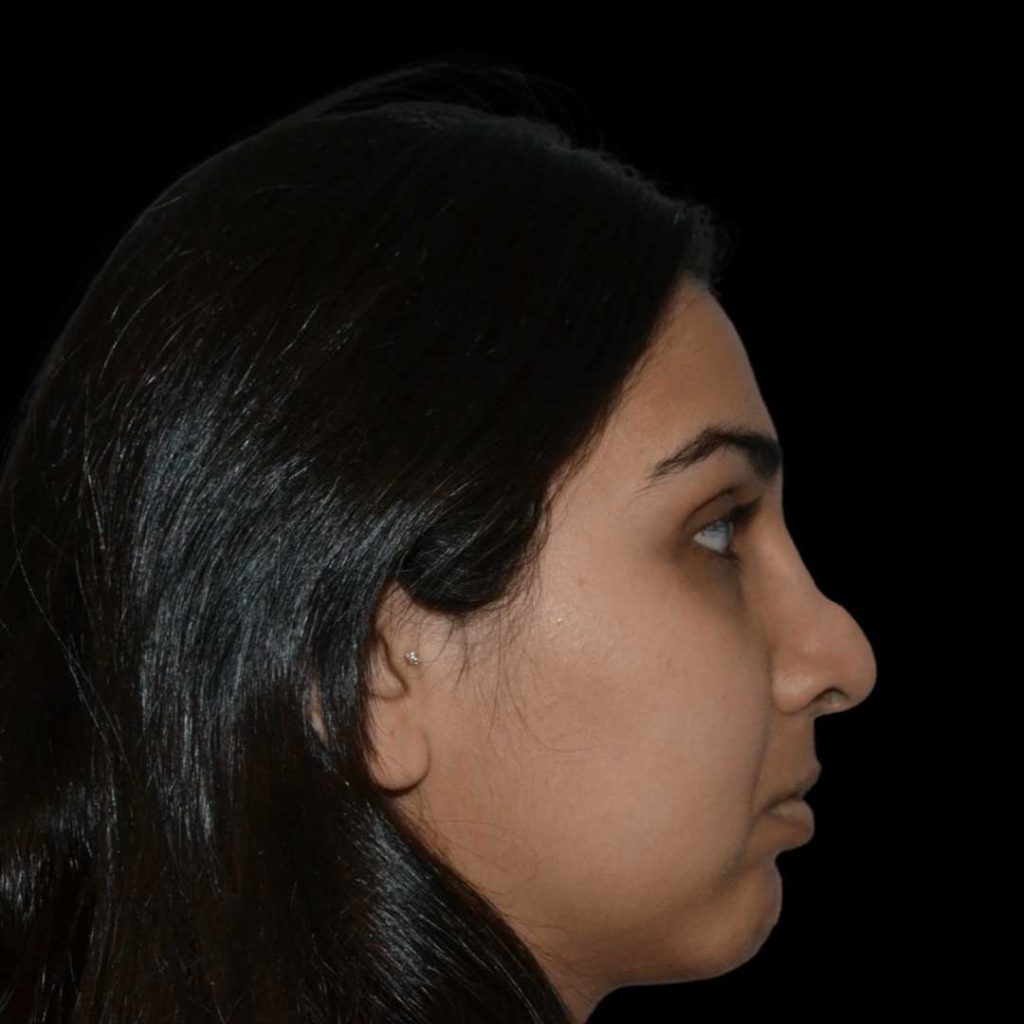 Dr. Ovchinsky meticulously evaluated this patient's desired results and what was within the realm of possibility before creating a simulated result to ensure they were on the same page pre-surgery.
After performing a revision rhinoplasty using rib cartilage graft, Dr. Ovchinsky was able to drastically improve her nasal shape and function. The actual post-op results are nearly identical, if not better, than the simulated images. But most importantly, this patient finally looks completely natural despite now having 3 surgeries.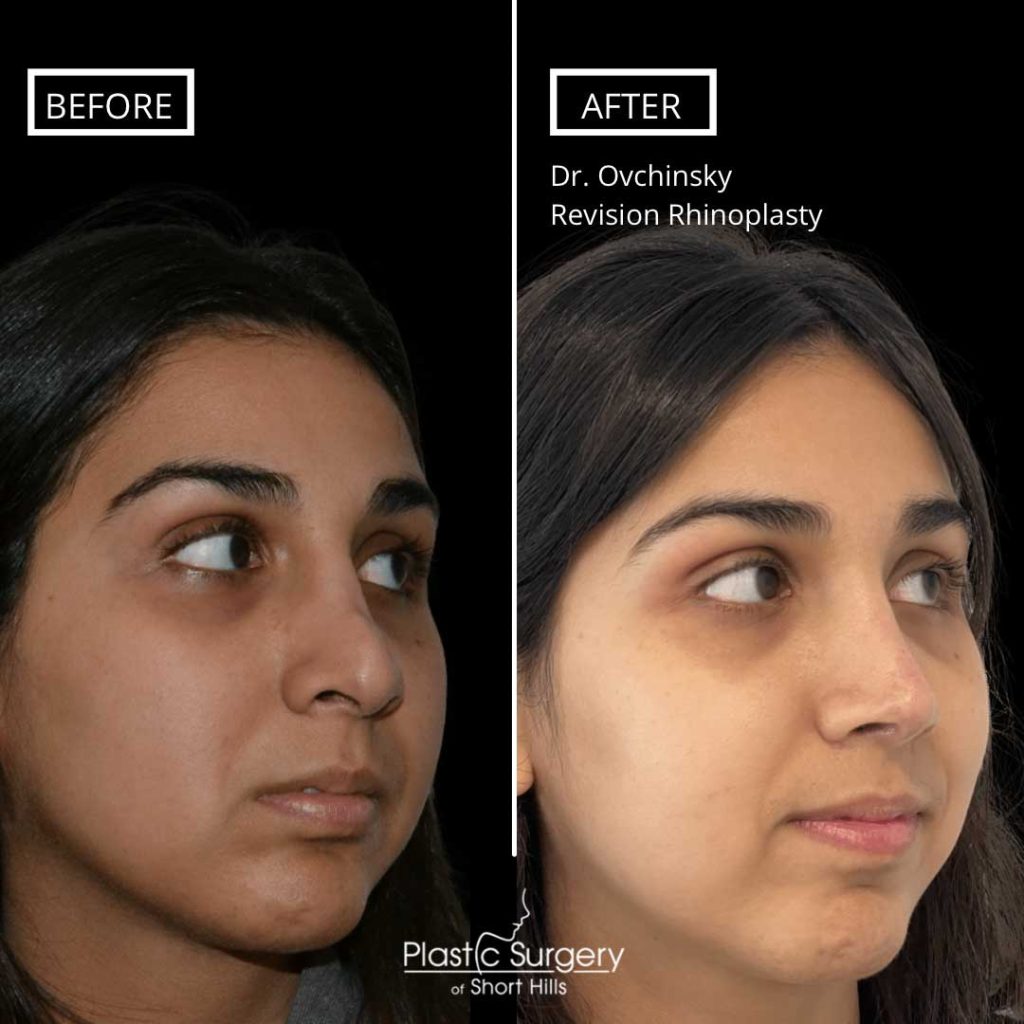 Her surgery journey is so moving, in fact, we decided to request an interview to gain her perspective and share it with you.
What made you trust Dr. Ovchinsky after having two prior rhinoplasty surgeries that left you unsatisfied?
"I had gone to over 5 doctors by the time I met with Dr.Ovchinsky. From the very start, Dr.Ovchinsky was honest about the difficulty of my case, and never promised perfection. This was important to me after having had two failed rhinoplasties – I knew that my case would be much more difficult than a primary. Dr.Ovchinsky explained what would be done during surgery in depth, did a thorough exam and spent as much time answering my questions as I required. Dr.Ovchinsky also met with me for a second consultation to go through everything again and reassure me that he could help me get a nose that was better cosmetically as well as functionally. By the end of the second consultation, I knew that the honesty and kindness that was provided to me by Dr.Ovchinsky and his staff was one of a kind and that he needed to be the surgeon to do my third and final surgery."
How satisfied were you with your consultation with Dr. Ovchinsky? What was the process like?
"I was extremely satisfied with my consultation with Dr.Ovchinsky. He did a thorough exam of both my cosmetic deformity as well as my septum – he made sure to explain his surgical approach in terms that I could understand. One thing I noticed that Dr.Ovchinsky did that other doctors did not do was that he also made sure that I knew the risks of a third surgery. He never once promised me perfection to get me to book with him, but he did assure me that he would do his very best. The honesty was the thing I appreciated the most about my consultation with Dr.Ovchinsky. I could tell that he was not telling me what I wanted to hear to get me to book with him, but he was telling me what I needed to hear to help me make the best possible decision for me."
How did your recovery go after your revision with Dr. Ovchinsky?
"My recovery after my revision septorhinoplasty was extremely smooth. On the car ride home from the surgery center, I was having a full conversation with my father and felt very minimal pain. Within two days after my surgery, I felt almost back to normal and was able to watch television and make myself food. I did not feel like I had just gotten surgery done because the pain was incredibly minimal despite also having gotten a rib graft. It was the best recovery I could have asked for."
How would you describe your experience with rhinoplasty surgery from start to finish, before and after Dr. Ovchinsky?
"My first two rhinoplasty surgeries were done by the same doctor – I recall during the consultation, he kept promising me a perfect little nose but wouldn't go into depth about his surgical approach or do a morph. I did not think anything of it at the time and just was impatient to get the surgery. I remember waking up from my primary septorhinoplasty in unbelievable pain everywhere on my face. I threw up multiple times in the recovery room and on the car ride home. The next few days of recovery were absolutely awful as well – I was on really strong pain killers but was in immense pain the whole time. Once the cast removal day came, I was so disappointed when I saw my nose. The entire experience was an emotional rollercoaster for me and did not give me the results I wanted. I had a second surgery with the same doctor to try to rectify the deformities caused by the primary surgery and while the pain was less than the primary, I was incredibly disappointed with the cast removal. It was an awful experience to go through multiple surgeries and be disappointed each time.
My experience with Dr.Ovchinsky was completely different – from the start, I knew that Dr.Ovchinsky was an expert in rhinoplasty surgery. He told me his approach, did a thorough exam, and also did a morph on the desired result he would try to give me. The day of the surgery, Dr.Ovchinsky stopped by, made sure I was comfortable and assured me that he would do his best again. When I woke up from surgery, I felt really sleepy but not in pain. I was talking to the nurses at the surgery center and was able to call my dad to tell him I was okay which is something that I don't think I would have been able to do after my primary rhinoplasty. I felt like a million bucks in comparison to my first surgery. The pain stayed about the same level for the most part even once I got home – there was no day where I felt like the pain was overwhelming."
What advice would you give to someone considering rhinoplasty surgery?
"I think the best advice to give anyone considering this procedure is to take your time with choosing a doctor. I genuinely believe that the doctor you choose will determine how your recovery is. Go to multiple consultations if you have to, ask silly questions if you need to, do research and trust your gut. Also, swelling is a big part of rhinoplasty surgery! Your nose will have good days and bad days but you have to give it time to heal – it's worth it. Saline sprays and humidifiers will be wonderful at clearing congestion and helping you breathe better. And the last piece of advice is to give yourself time to rest afterwards – you need time to heal after surgery and being well rested and relaxed will make the healing journey easier."
Overall, how would you rate your experience with Dr. Ovchinsky and his staff?
"Out of 1-10, Dr.Ovchinsky and his staff get a 10. The office is wonderful at what they do and it is always a welcoming environment. I am extremely happy with my results."
Would you recommend Dr. Ovchinsky to your friends and family?
"100% I would recommend Dr.Ovchinsky to anyone that is considering a rhinoplasty, both primary or revision. Thank you again!"