5.0
stars - based on
43
reviews
---
I highly recommend him. His work is impeccable.
5.0
stars - Written on June 8, 2023
My daughter had a rhinoplasty with Dr. Ovchinsky. The office is friendly and very accommodating. Dr. Ovchinsky did a wonderful job. My daughter is very particular and was very nervous. He gave her the nose she always wanted and she could not be happier. I am so thankful we found him. I highly recommend him. His work is impeccable.
by Megan Marchese
Highly recommend!
5.0
stars - Written on June 8, 2023
Dr. O did an amazing job on my revision rhinoplasty! My nose looks natural and fits my face perfectly! Most people tell me it looks like I was born with this nose! Overall I am very satisfied with my surgery and so happy I finally did it! His staff is also wonderful, sweet and accommodating! Highly recommend!
by Gabriella Fama
I am so so happy with the results
5.0
stars - Written on June 8, 2023
Dr Ovchinsky performed otoplasty surgery on me recently and it was life changing!! I am so so happy with the results and would highly recommend this location. The healing process was not too uncomfortable and their office had enough availability for me to get the surgery done before the summer when I need to put my hair up. Huge thanks to all of the lovely people behind the desk for being so kind and helpful as well.
by Melody Howe
Dr Ovchinsky is amazing!
5.0
stars - Written on June 8, 2023
I knew he was my surgeon during our consultation due to his professionalism and knowledge- he knew what I wanted to change, before I even told him. Recovery was so much easier than I anticipated, with minimal bruising and swelling. At one week post-op I love my nose already! It's a smaller & cuter version of the original. 🙂 Highly recommend
by Tara Laubach
He really knows what he is doing!
5.0
stars - Written on June 8, 2023
Let me start off with, going for surgical procedure consultations can be very nerve wrecking. It is very hard on deciding what doctor to trust with your face.I have to tell you from the moment I met Dr. Ovchinsky and his staff I knew this was the doctor for my daughter. We felt comfortable immediately and Dr.Ovchinsky knew what he was doing. They were extremely accommodating when booking the date for my daughter's rhinoplasty also corrected her deviated septum. Everything was smooth from start to finish. Her nose came out beautiful. It is very natural looking and it fits her face. If you are having a hard time picking a surgeon, pick Dr. Ovchinsky. He really knows what he is doing!!!
by Teresa Mancuso Calemine
I would receive a response almost immediately. Highly recommend Dr. Ovchinsky for rhinoplasty.
5.0
stars - Written on April 21, 2022
I've never written a review before, but I thought that Dr. Ovchinsky and his staff deserved a great review. Dr. Ovchinsky is very organized and efficient at what he does. I had a rhinoplasty procedure done with him, and I couldn't be happier with the results I received. His staff is also super helpful. When I had any questions or concerns I would address them through their patient portal, and I would receive a response almost immediately. Highly recommend Dr. Ovchinsky for rhinoplasty.
by Justin S.
I would 100% recommend him and his staff to everyone !!!
5.0
stars - Written on April 12, 2022
I have nothing but great things to say about my experience with Dr. Ovchinsky and his team. From the moment you walk in they make you feel welcome and comfortable. The rhinoplasty process was easy and they support you along the whole way which really eased my anxiety. I always wanted a rhinoplasty and was hesitant to go ahead and do it, Dr. Ovchinsky was the first and only consultation I ever made and I couldn't be happier, he gave me a perfect natural looking nose, it is exactly what I wanted. I would 100% recommend him and his staff to everyone !!!
by Patricia A.
Definitely made the hour long commute worth it!
5.0
stars - Written on April 2, 2022
Dr. Ovchinsky was great! He was very friendly, approachable, professional, and transparent. I went in to get a non-surgical rhinoplasty and he wanted to make sure it was going to be the right procedure for me by learning about what goals I was looking to achieve from the procedure. He listened to me, answered my questions and concerns, and throughly explained the procedure to me (what happens during the procedure, type of filler that is used and what it does, potential risks, how results look like, after care, etc). Definitely made the hour long commute worth it!
by Sara Omar
"HERE IS A VERY HAPPY PATIENT TALKING ABOUT HIS RHINOPLASTY EXPERIENCE."
5.0
stars - Written on March 26, 2022
by Anonymous
HAD AN AMAZING EXPERIENCE
5.0
stars - Written on March 26, 2022
Had an amazing experience with dr ovchinsky before I even made it into his office. I booked a consultation to see him online and also did the virtual consultation because I figured why not. Did not expect dr ovchinsky to respond in less than 24 hours with a detailed message explaining his recommendations, why and how it would be achieved all before he suggested coming to actually see him in his office. I was really impressed by his dedication to a patient who hadn't even put any money up yet. after my actual consultation I was sold and booked him for my rhinoplasty and chin implant. He made me feel super comfortable and confident with my decision and day of the surgery was a breeze. Recovery was quick and almost painless and im ecstatic with my results. He's honestly incredible and I would 10/10 recommend to anyone who wants to do anything to their face.
by E.R.
"I AM GRATEFUL FROM THE BOTTOM OF MY HEART FOR THIS POSITIVE AND PERMANENT CHANGE IN MY LIFE"
5.0
stars - Written on March 12, 2022
Without meeting you I would still be living a hellish breath-constricted existence. After receiving surgical and medical care under your exceptional and precise expertise, I have been feeling like a new-born infant discovering the world for the first time, because I can finally breathe. I feel more vitality and actually look forward to every activity in my life with eagerness.
Additionally, quite pleasantly, I have received unexpected complements on my new "look." Thanks to your keen observation and knowledgeable insistence on providing symmetry to my face, the balance you created of my chin to my nose has made all the difference in the world to my life. I have been told I look like I have more confidence, that I appear more healthy and mature, and that I innately express a sense of sureness not apparent before. I also no longer look like I have the blackened eyes of a raccoon. My consistently debilitating headaches have ceased. I am so happy. Thank you.
I am grateful from the bottom of my heart for this positive and permanent change in my life. My life would never have opened up to me the way that it has without having experienced your meticulous medical intervention.
I would like you to know that you are personally responsible for changing my life in a very positive way. I hope to emulate you and pay my gratitude forward someday to someone in need as you have done for
me. Thank you Dr. Ovchinsky.
Sincerely,
by Gabriel
"PATIENT IS HAPPY WITH HER "PERFECT" RHINOPLASTY"
5.0
stars - Written on February 28, 2022
by Anonymous
"THIS IS A MOTHER AND DAUGHTER COMBO WHO UNDERWENT RHINOPLASTY TOGETHER."
5.0
stars - Written on February 26, 2022
by Anonymous
"HE WILL TAKE SUCH GOOD CARE OF YOU AND YOU WILL LEAVE SATISFIED"
5.0
stars - Written on February 26, 2022
When I first came to Dr. Ovchinsky's office for an initial visit I was in desperate need of help. I had been suffering for over a year not being able to breathe and when I say couldn't breathe I mean I was walking around with a bottle of Afrin on me at ALL times. I had Afrin bottle in my car by my bed in my pockets my friends thought that I was an Afrin addict but what they didn't know is I could not go longer then 2-3 hours without needing to use Afrin without being able to breath. There is no way I could sleep unless I had just used Afrin. After coming in for my initial visit with Dr. Ovchinsky, he told me right away that my septum had fallen through and I no longer had a septum. He gave me some sprays that immediately helped somewhat and scheduled a date for surgery. The sprays helped a bit but I still needed Afrin everyday to clear my airways. I was reluctant about this surgery because I had prior surgery 3 years before in Boston, done by a doctor from Harvard Medical school and that had gone horribly wrong. My breathing was so much worse after and I had a big bump in the middle of my nose so I really didn't know what was going to happen after this surgery. Well let me tell you the SECOND I awoke from my surgery I could already tell my breathing had gotten 100 times better. When I came in 2 weeks later to take the bandages off I was breathing so well it almost made me want to cry that I had finally put this torture and struggle over breathing behind me. The bonus was that my nose now looked like new it was straight and small and just perfect in every way again. It had now been almost 8 months since the surgery and I'm breathing perfectly and looking great. I would recommend that everyone put there trust in DR Ovchinsky. He will take such good care of you and you will leave satisfied in every which way.
Sincerely,
by Alex M. from Boston
MY NOSE IS PERFECTION
5.0
stars - Written on February 10, 2022
Thank you so much Dr. Obchinsky and his staff best service I've had in a doctor's office, I am so happy with my results it exceeded my expectations, thanks to the doctor's great work my nose is perfection 10 out of 10.
by I.R.
10/10 WOULD RECOMMEND
5.0
stars - Written on January 6, 2022
10/10 would recommend to anyone who is considering Rhinoplasty. Dr. Ovchinsky was fantastic from the start and I couldn't be happier with the results. I wanted to get this procedure done for so many years, but kept putting it off, but I was a few months out from my wedding day when I finally decided it was now or never. I did some research and found the Plastic Surgery of Short Hills office and Dr. Ovchinsky who specializes in Rhinoplasty. I was really impressed by the gallery of work that he had done and went for my first visit. The office was extremely accommodating and worked with me to plan out the entire process so that I would be ready to go by my wedding day. When I came in for my unveiling, I literally had tears of happiness in my eyes after seeing my new appearance for the first time. The results were EXACTLY what I've always wanted and it looks so natural. I don't have to think about which angle I'm turning my head in pictures or feeling any sense of insecurity around my nose anymore, and I owe that to Dr. Ovchinsky's great work.
by M.M.
"A HAPPY CLIENT!"
5.0
stars - Written on November 26, 2021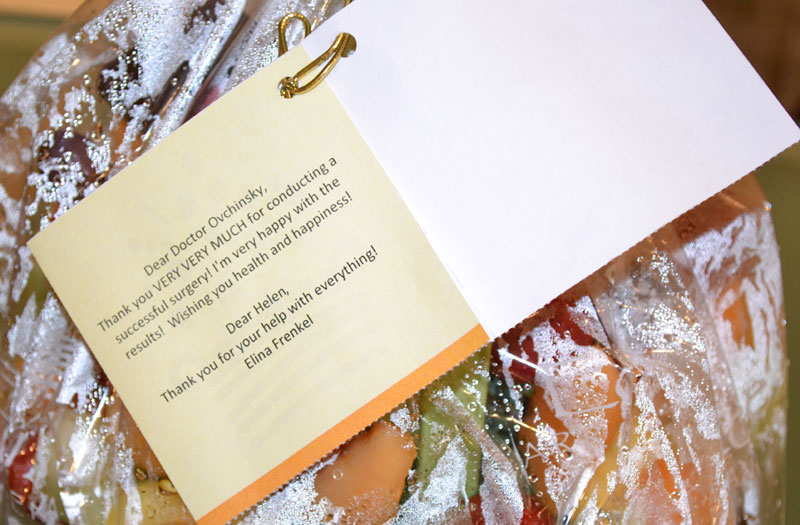 by Elina Frenkel
"GREAT DOCTOR! EXCELLENT EXPERIENCE AND SUPERB RESULTS! HIGHLY RECOMMEND."
5.0
stars - Written on November 8, 2021
Great Doctor! Excellent experience and superb results! HIGHLY RECOMMEND.
Dr. Ovchinsky and his staff are top notch. I have been coming to Dr. Ovchinsky for Botulinum Toxin and Sculptra for several years, and most recently for THERMI-Tight (I've had it done for my neck), and every time the results are outstanding to say the least. Before seeing Dr. Ovchinsky for the initial consultation, I've done a lot of research to find the right doctor to do the corrective procedure. Dr. Ovchinsky stood out with both Ear, Nose and Throat surgery and facial plastic surgery specialties. Such precise knowledge of the face is what gives him the ability to achieve consistently great results. But aside from his surgical skills, Dr. Ovchinsky is very caring and compassionate Dr. who always takes his time to answer all my questions and concerns about the procedures. He's also got a great aesthetic sense, so if you're not sure what you need but just want to look better, he'll know what to do without over-doing it. Really important if you want the results to look completely natural.
The office staff are very friendly and very helpful at all times.
I would highly recommend Dr. Ovchinsky to anyone! Thank you to Dr. Ovchinsky and to the office staff for always making my experience exceptional!
by S.D.
"WONDERFUL EXPERIENCE"
5.0
stars - Written on August 12, 2021
Wonderful experience every time I come to Plastic Surgery of Short Hills. Dr. Ovchinsky is the best. He performed a few procedures for me and he has done an amazing job! I am thrilled with my results! Whenever I come to his office, I never feel rushed and he always takes his time explaining all the procedures. The staff in his office is extremely nice and accommodating. The office manager Helen is very considerate and patient and answers all the possible questions that I have.
Thank you Plastic Surgery of Short Hills!!!!
by O.R.
"I HIGHLY RECOMMEND DR. OVCHINSKY FOR PLASTIC SURGERY"
5.0
stars - Written on May 26, 2021
Dr. Ovchinsky is a wonderful, kind plastic surgeon. My daughter had rhinoplasty and septoplasty and is so happy with the results! He was very professional, yet personable at the same time. His staff was extremely helpful and I highly recommend Dr. Ovchinsky for plastic surgery, particularly of the nose. We have seen some of his other patients after plastic surgery, and they have all had great results. We never had to wait long for our appointment, and he returned phone calls during off hours. He is very calm, caring and excellent at what he does!
by S.&J.
HIGHLY PROFESSIONAL
5.0
stars - Written on March 26, 2021
Highly professional and compassionate staff. I've hd surgery with Dr Ovchinsky and laser treatments with Sarune and both have made me feel so at ease and I've had great results. Highly recommend.
by C.N.
THE STAFF IS KNOWLEDGEABLE AND PROFESSIONAL
5.0
stars - Written on March 5, 2021
I had laser hair removal and IPL photofacial for my sun damage, and I am so pleased with just a few treatments. I already see a huge difference and I'm not even done yet! The staff is knowledgeable and professional, the office is clean and they use state of the art equipment! Highly recommend.
by Anonymous
"LOVE MY RHINOPLASTY RESULTS!"
5.0
stars - Written on July 12, 2020
Discovering Dr. Ovchinsky is a result of my 10 years search for finding a plastic surgeon who I can trust enough to let him/her have a surgery on my most prominent future of my face. I am extremely satisfied with my discovery. He is an ENT (knows the functionality aspect of nose), he is plastic Surgeon and to top it off he only works on Neck and up (don't worry he doesn't mess with your brain lol) and if that is not enough Rhinoplasty is his specialty. I have been to many many consultations in and out of the state. After I have done tons of research about his credentials I went for a consultation and I knew right there that I am going to have a nose I always wanted. He is the BEST, knowledgeable, confident, experienced, and supper nice, calm and kind. I am glad that now that I am about 40 I found him, and I don't need to be worried about aging anymore 🙂
I have done my surgery on JUN 2013 and since then 2 of my close friends have done it and my cousin is scheduled to go in couple of months. Both of my friends have done revision rhinoplasty and are as happy and satisfy as I am. When I was doing my homework about the Dr. I would have liked to see more reviews or talk to a patient, so if you ever like to talk to me about my experience tell the office that you want to speak with me, my initial is FS and my surgery was on Jun 4th, they should be able to find out who I am. I am also so happy with the office staff (Short Hills, NJ office), they are amazing people supper nice and accommodating. Amazing amazing experience. Good luck!!!!
Sincerely,
by F.S.
CONSULTATION REVIEW: FIVE STARS!
5.0
stars - Written on May 6, 2020
I met with Dr Ovchinsky for my consultation and I can say that I was impressed with this doctor! He took the time to answer all my questions and concerns. He seems to truly care and want the best for you besides being a truly talented doctor. His office staff was very personable and there for you. I left feeling very reassured and so pleased to have made the appointment. I can understand why his ratings are so high!
by Anonymous
DR. OVCHINSKY IS AN AMAZING DOCTOR
5.0
stars - Written on April 10, 2020
I was very scared to get a rhinoplasty, because that means you have to give a lot of trust to your doctor. I am so grateful that I chose Dr. Ovchinsky, because he made my dream nose come true. I had a very easy and fast recovery. Dr. Ovchinsky is an amazing doctor, and he did a phenomenal job that I will always be thankful for.
by Rhinoplasty Patient
DR. OVCHINSKY PERFORMED A PHENOMENAL SEPTORHINOPLASTY ON MY NOSE.
5.0
stars - Written on March 7, 2020
Dr. Ovchinsky performed a phenomenal septorhinoplasty on my nose. I was skeptical of any surgeon's ability to give me what I was looking for while making it look as natural and fitting to my face as possible; Dr. Ovchinsky did exactly that. I've only just removed the nose cast this morning and am already astonished at how remarkable the results are even with the swelling. If you are having difficulties finding the right surgeon for your nose requests, I can assure you Dr. Ovchinsky is the doctor for you.
by Anonymous
"ALWAYS HAVE A GOOD EXPERIENCE AT THIS PRACTICE"
5.0
stars - Written on February 16, 2020
Always have a good experience at this practice. Dr Ovchinsky is a patient and caring doctor who takes time to explain different options and possible outcomes. He is professional , knowledgeable and thoughtful. His stuff are friendly and courteous, especially the office manager, Helen. She is always kind and helpful and pleasure to deal with.
by A.L.
HE EXCEEDED MY EXPECTATION
5.0
stars - Written on February 5, 2020
Dr. Ovchinsky is amazing at what he does! I had a rhinoplasty done in July 2020 and I am so obsessed with the way my nose looks now! He exceeded my expectations and I would recommend him 100 times to anyone who wants a nose job. He's so professional and knows what he's doing. His staff is also extremely friendly and super helpful. They were able to move my surgery date up so I can have it done before my birthday! I wish I would have done this surgery sooner but I am so happy with my results and love showing off my nose now!
by J.G.
DR O IS BY FAR THE BEST
5.0
stars - Written on February 2, 2020
okay have had many rounds of dysport from various doctors. Dr O is by far the BEST at targeting the right ares. Maybe pricey but he is an expert. Im going for a touch up by him after a dentists injected me a month ago and I still have brow furrows! He is the best so far!
by S.Y.
"THANK YOU AGAIN AND GOD BLESS YOU"
5.0
stars - Written on February 1, 2020
I can't thank you enough for the excellent recontruction job of my nose. April 2014 was a life changing experience for me. I was so ashamed of what I looked like at age 49. I have had 2 other doctors try to correct the symmetry, fix my septum and reshape my nostrils. They were both New York doctors with great reputations.They both failed. Dr Ovchinsky assured me that he could correct my nose by doing a cartilage graft that was done 2 other times and was never successful.I was worried that again this would fail but after speaking with him I just felt so confident that he knew what he was talking about. I thank God I found the most amazing doctor. I had no sectum and now it looks like I have one. The doctor worked on me for 6 hours and today I feel so beautiful. I would recommend him to anyone that is looking for a top doctor. When he took the cast off I cried with joy. Thank you again and God Bless you. I can't say enough as to how satisfied I am.I finally went to the best and most knowledgeable, kind and super nice doctor.
by D.K.
GREAT DOCTOR, GREAT EXPERIENCE, GREAT RESULTS!
5.0
stars - Written on January 26, 2020
Dr. Ovchinsky and his entire staff are very professional and helpful, enjoyed dealing with them very much. They answered every question I had prior to my surgery and I had wonderful results. I couldn't be happier!
by D.D.
THE RESULT EXCEEDED ALL MY EXPECTATIONS
5.0
stars - Written on January 26, 2020
Если вы когда-нибудь задумаетесь о ринопластике, то без сомнений перед вами лучший хирург с золотыми руками. Задача со мной стояла нелёгкая, т.к. в детстве была удалена часть хрящевой основы и многие именитые доктора манхеттана были либо неуверены в результате, либо просто отказывались. С ним не было сомнений ни секунды, он просто показал как он сможет и это было самое идеальное виденье из того что я представляла, хотела и искала по фото других врачей годами. А результат превзошёл все ожидания. Через месяц носик просто кукольный! Ко всему этому добавить все встречи точные по времени и без ожидания и офис, который отвечал на самые необычные вопросы и просьбы просто круглосуточно!!! Спасибо вам огромное за то что даёте возможность на лучшую версию себя!
If you ever think about rhinoplasty, then without a doubt you have just found the best surgeon with golden hands. The task with me was not easy, because in childhood, part of the cartilaginous nasal tip was removed and many eminent doctors in Manhattan were either unsure of the result or simply refused to operate. There was no doubt with Dr. Ovchinsky even for a second, he just showed how he could perform the surgery and it was the most ideal result that I imagined, wanted and searched from other doctors for years. And the result exceeded all my expectations. A month later, the nose is just a doll! To all this add all the on-time appointments without waiting, and an office staff that answered the most unusual questions and requests around the clock !!! Thank you very much for giving me the opportunity to become the best version of myself!
by Darya
WOULD HIGHLY RECOMMEND TO ANYONESarune was great! She carefully explained the process and how it would work long term. Treatments were done with extreme care to minimizing any discomfort. Very professional and extremely happy with the results. Would highly recommend to anyone.
5.0
stars - Written on January 1, 2020
Sarune was great! She carefully explained the process and how it would work long term. Treatments were done with extreme care to minimizing any discomfort. Very professional and extremely happy with the results. Would highly recommend to anyone.
by S.C.
"DR. OVCHINSKY IS AN AMAZING PLASTIC SURGEON!!!"
5.0
stars - Written on October 31, 2019
Dr. Ovchinsky is an amazing plastic surgeon!!! I had rhinoplasty done two weeks ago and I could not be happier with my results. I love my new nose, I love my doctor. I was also amazed by my fast and painless recovery.
by A.S.
"MY RESULT IS BETTER THAN WHAT I EXPECTED…"
5.0
stars - Written on September 26, 2019
OK, so I generally don't write reviews but I had to make an exception, to show my gratitude and maybe help someone who maybe in need of a skill surgeon to perform rhinoplasty.
So let me start and give you a quick background of my issues. I previously had two rhinoplasty before, that left me with a very shortened nose, a notch, and a receding nostril. Basically you can see right up my nasal cavity.I spent years searching for surgeons and when I thought I found the right one "bang!" I find out something negative and had to start over. I also would disregard any surgeon whom I believe have their office workers go in and write up stories about their doctor to make the surgeon looks good. Any way I saw Dr. Ovchinsky name on "Real Self" and I went and visit his website and was impressed with the aesthetic of rhino work. I forgot to say that a few doctors told me that they couldnt help me because my case was too complex. Any way I had a consult and met the Dr and his staff at his Short Hills, NJ office. I must say this doctor was so humble, attentive, and patient. He listened patiently to my concerns and tell me in details how he would correct my shortened nose and receding nostril and fix notch in nostril, and hanging columella. Then the doctor had some pictures taken and did a morph session to see what my nose would look after the surgery.
I had the surgery August 2015, at NYC office. I arrived early and checked in. Changed in surgery robe and went on the 3rd floor until my turn. It was 12 noon but the surgery was for 2:30 pm. So I said a little prayer, asking for divine help so the surgery could go well. It was time already and I followed a nurse to the OR where I met Dr. Ovchinsky briefly and then the anesthesiologist. IV was setup and I was told that I was going to be given a little drugs to relax me. 123 I was out ! I woke up 4.5 hours later. It was a long surgery and the medical staff had me stay around until my ride came and I was able to drink fluid without vomiting.
So dr. took piece of my ribs to lengthen my nose, so I had a small discomfort in my chest. After the surgery I did not need any pain medication. There is no visible scar or any complication nearly a year. Now about the result, my nose is so natural looking and all my concerns has been resolved. Not only is the doctor a skilled surgeon, but he is so humble and approachable. I hope the doctor keep those traits and never become arrogant like some of these surgeon I met. My result is better than what I expected and you know what else, for the work that he did it should have been a lot more money, and that is one of the reason I came here to tell my experience. To Dr. Ovchinsky and staff, Thank you, Thank you. I will stop by at the office to take an after pic so those who need a revision or a primary rhinoplasty can see this doctor work in motion. Again the only reason I am doing this is because I feel like I owe him this.
by
TO US, YOU'RE A MAGICIAN, A GREAT DOCTOR, A SPECIAL GIFT FROM GOD
5.0
stars - Written on August 26, 2019
We really admire all your dedication towards your work. Thanks for being an amazing doctor.
We can never thank you enough for all your services. You are truly a man of honor and word. We will always pray to God for your betterment.You are the best!!
by T&M
"YOU ALL ARE WONDERFUL"
5.0
stars - Written on July 12, 2019
Hi Helen,
It was so nice meeting you last Thursday. I would just like to say that I have been searching for a cosmetic surgeon for the past year now and and I am very impressed and felt the most comfortable in your offices than anywhere I've been. I tend to have a lot of anxiety and I felt very at ease with you and the doctor. He's great; I have had restylane for my nasal defects and nasolabial folds in the past and I must say, they look amazing in comparison to last time. I am very happy that I went through with the Botulinum Toxin above my brow and in my eleven line on the left side, as it's always been a little "droopy" and this slight alteration has made a big difference in my face! My eye looks so open and refreshed and my brows look so even; I really didn't think such a small thing could make a such a difference since small things haven't in the past, but it seems the doctor has a real eye for the injections. It's like he knew what I wanted before I could even ask and wasn't pushy about things I was apprehensive about which, unfortunately, is rare nowadays. I now feel comfortable with the Botulinum Toxin so I am definitely interested in seeing where I can have some around my eyes (crows feet) and possibly to lift the tip of my nose as we discussed. My nose looks great though; I'm happy with how it turned out and I appreciate the doctor and you being so honest and upfront about pricing and results. The last place I went, the staff would not allow me to use the same restylane syringe for my nose and nasal folds; I got two separate charges (and overpaid) and less results. Your office was able to achieve better results with the one syringe and the doctor also offered the same with the Botulinum Toxin since there would be extra. I'm so happy I found your office! I set up a 3 month follow up when I left the office, but after I get back from vacation at the end of February, I would like to possibly see about the additional Botulinum Toxin before the 3 month follow up. Again, thank you so much and please pass this along to the doctor. You all are wonderful and I will be recommending your office my friends and colleagues.
Kind Regards,
by D.M.
"DR. OVCHINSKY IS AN ARTIST AND SCULPTOR OF NOSES!"
5.0
stars - Written on June 26, 2019
Review of Dr. Ovchinsky (Rhinoplasty) I have wanted a rhinoplasty for years. It was very important for me to find a doctor with great skill and that I felt very comfortable with. A friend of mine that had a rhinoplasty a couple years ago recommended that I go to see Dr. Ovchinsky. I was impressed after reviewing his website and after seeing examples of his surgeries. I was also impressed with the description of his education and experience. I then scheduled a consultation with him. During the consultation he told me what he could do to make my nose look the best for my individual look while maintaining my health. The consultation went very well and I decided to have him perform my surgery. I had my surgery on November 28th 2016 at Saint Barnabas Medical Center in New Jersey. Prior to my surgery, all of the staff were very knowledgeable and made me feel very comfortable. Dr. Ovchinsky came to see me before my surgery and made sure that I was ready and to ask if I had any questions. He made me and my boyfriend feel like I was in good hands. The surgery went well and there were no complications. As soon as I was out of the operating room Dr. Ovchinsky came out to speak with my boyfriend and explain all the details of the operation and follow up care. The next day after the surgery he called to check on me which really made me feel like my recovery mattered to him. Eight days after my surgery I went to his office in Brooklyn to have the cast and stitches removed. I was very excited to see my new nose. The Results that I saw made me and my boyfriend very very happy. He changed the shape of my nose but it looks so natural like it's always been like that. Dr. Ovchinsky is an artist and sculptor of noses! My next appointment was one month after Dr. Ovchinsky removed my stitches and cast. During this time the swelling continued to go down revealing my beautiful new nose. As the swelling goes down I see more definition and shape to my nose. One side still has more swelling and less shape than the other but Dr. Ovchinsky says that this is normal and I should see full results with no swelling in approximately a year to a year and a half. I have another check-up scheduled in four months. I love my new nose and I am very happy with the results. I am excited to see how it will look when all the swelling is gone. I recommend Dr. Ovchinsky because he can give you what you want and what you need!"
by K.S.
PERFECT IN EVERY WAY
5.0
stars - Written on February 16, 2019
Got my septo/rhinoplasty here with Dr. Ovchinsky…. I had a septoplasty done years ago and it was done ( in my opinion) very horribly so i went to Dr. Ovchinsky for a consult and knew right away i was dealing with someone who knew what he was doing. 4 weeks after my initial consultation i had my surgery done….. Went EXTREMELY smooth, loved the facility and the nurses and asstants. Everything about the experience was very professional given the fact that im a health professional my self. I paid out of pocket for the whole procedure and it was worth every penny. My breathing is almost PERFECT and he removed a bump and droop on my nose perfectly as well. Dr. Ovchinsky is the real deal. It is not easy to do revision surgery and this man does it right.
by N.G.
"PATIENT SAHR ALY IS HAPPY WITH HER RESULT"
5.0
stars - Written on February 12, 2019
by
AMAZING RESULT!
5.0
stars - Written on June 4, 2018
Dr. Ovchinsky's reputation preceded him. He was every bit as amazing as I had heard. He was extremely professional and understood exactly what I wanted out of my revision rhinoplasty. He was very thorough and even agreed to meet with me multiple times to discuss my concerns. His office staff was always friendly and accommodating, and you could tell they truly care about each and every patient. I am now one month post op and I am beyond happy with the results, my nose looks amazing. As someone who has met with many surgeons and has had many surgeries, take it from me, you will not find a better facial/rhinoplasty surgeon in NJ. Dr. O is the best.
by W.B.
FROM THE SECOND I WALKED IN I FELT AT EASE
5.0
stars - Written on April 10, 2018
Went to see Sarune at this facility for Trusculpt 3D. From the second I walked in I felt at ease. I didn't feel pressure to go forward with the treatment immediately after my consultation which is not something I have experienced all of the time with other doctors offices. My comfort during the entire procedure was a concern of Sarune's which was appreciated because the treatment can certainly be uncomfortable. Excited to go back for my follow up treatment and Thermismooth for my eyes!
by R.K.
"VERY PROFESSIONAL AND KNOWLEDGEABLE"
5.0
stars - Written on December 1, 2016
I saw Dr. Ovchinsky for a Rhinoplasty consultation twice, and both times he was very professional and knowledgeable, as well as patient. He answered all my questions and made me feel comfortable regarding the surgical procedure.
I never had any kind of surgery in the past, but the surgical facility and Dr.Ovchinsky were very accommodating and made me feel safe on the day of the Rhinoplasty procedure. The whole day went on very smoothly, I really liked the whole experience, as well as my new look…
I now come in for occasional Botulinum Toxin and will remain a loyal patient of Plastic Surgery of Short Hills…
The office itself is very nicely designed, with a soothing color scheme and pleasant environment.
The stuff is very friendly and attentive.
Thumbs up!
by J.B