Facelift (Rhytidectomy)
Conveniently located to serve the areas of New Jersey and New York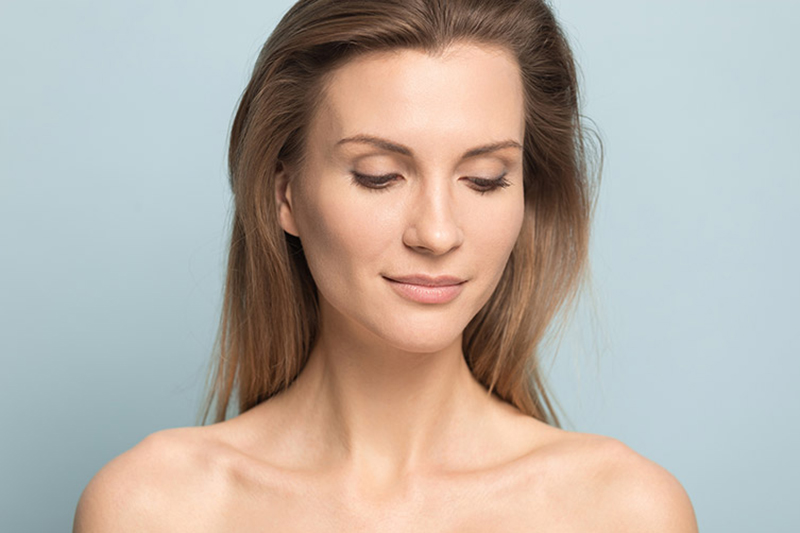 The facelift has become one of the most popular cosmetic surgery procedures because as medical advances and new technologies increase life span, many women and men find that they look older than they feel physically and mentally.
A facelift, or rhytidectomy, can "turn back time" by adjusting the fat, muscle and skin of the face to create a smoother and more youthful appearance. At Plastic Surgery of Short Hills in New Jersey, we strive to provide our patients with natural-looking and beautiful results from their facelift.
Before and After Photos
Ideal Candidate
Although facelift is most commonly performed on patients in their forties to sixties, individuals in their seventies and eighties can still have a successful face lift. The key to a successful facelift is having skin that, while it may be sagging around the face or neck, still possesses some elasticity as well as having a bone structure that is well-defined and strong enough to support facial soft tissues.
You may be a candidate for a facelift if you answer "yes" to any items below:
The skin of the middle and lower face is getting saggy.

The jaw line is not smooth anymore, has jowls.

The skin under the chin is saggy and loose.

The bands under the chin are becoming more visible.

The under chin area is too full and the angle between the chin and the neck is not as sharp as it used to be.
If you have any of the above conditions, a facelift could improve your looks. Independent of the problem at hand, the goals of the surgery are always the same- to produce natural, not over-pulled appearance with long lasting results.
I have never written a review before in my life but now I have to because Dr. Ovchinsky is just absolutely incredible. Him and his wonderful staff are the kindest, most professional, and helpful team I have met. They all go above and beyond for their patients. On top of that Dr. Ovchinsky knows exactly what he is doing and was able to give me a result that is better than I could have ever imagined. I cannot recommend them enough! Honestly if you looking for a surgeon and team that demonstrates professionalism, guidance, patience and talent, look no further!
Read More Testimonials
Benefits
The goal of the facelift is to lift, reposition and tighten the sagging skin and underlying muscles of the face and neck, as well as remove some excess skin and fat which tend to sag with advancing years or premature aging.
There are many different techniques used for face lifting procedures which range from minimally invasive to deep plane facelift. Another common term is a short scar facelift, which usually implies that the incision does not continue into the posterior hairline, so no scars are visible when your hair is pulled back. Double-board-certified facial plastic and reconstructive surgeon Dr. Alexander Ovchinsky will discuss which type of procedure is best for you to achieve your goals.
Facelift Incisions
While facelift techniques are varied to suit individual needs, the incisions in all cases are placed along natural skin creases and are generally imperceptible once they heal. The deeper tissues and muscles are repositioned to their more youthful setting.
Options for Anesthesia
Your experience should be safe, as well as comfortable. We have the unique ability to offer patients two different anesthesia options. Smaller procedures may be performed by taking oral medications before the procedure along with local anesthesia. More extensive procedures usually require so-called "twilight" anesthesia (medication given intravenously along with local anesthesia) or general anesthesia.
Combining Your Facelift with Other Procedures
Facelift surgery does not correct problems in the upper and lower eyelids nor the wrinkles or creases around the lips. Procedures that compliment facelift surgery and are often done at the same time include: eyelid surgery, forehead/brow surgery, chin implant and fat transfer. Rhinoplasty can slo be performed on New Jersey patients interested in more dramatic results.
Dr. Ovchinsky will advise you which procedures would be beneficial to complement the facelift based on your particular situation.
Recovery
Most patients are presentable a little over one week after surgery, however many patients are up and about within the first few days. The face and neck are particularly sensitive to swelling and a certain degree of bruising is to be expected. Because incisions are placed around the creases of the ears, scars are barely visible.
Sutures are removed five to seven days after surgery and camouflage makeup can be applied at one week. As incisions heal, you may experience some numbness or itching at the site.
Discomfort is mild and easily controlled with oral medication. The application of cold ice pads is extremely comforting after surgery and compresses should be applied the first few days to minimize bruising and swelling.
Light exercise can be started two weeks after surgery, however aerobic walking can resume after the first week. As with any plastic surgery procedure, the healing process with a facelift is gradual, but the benefits from surgery will last for years.
Results
Naturally, everyone contemplating the operation is interested in how much improvement they can expect and for what duration. The amount of improvement depends on the degree of wrinkling and sagging present; if it is excessive, the results may be dramatic; if sagging is premature and the operation is being done to attempt to keep the patient looking young, the improvement may be more subtle.
Remarks may be made that the face appears "less tired" and "looks livelier". Numerous patients of Dr. Ovchinsky commented repetitively that they are extremely happy with the natural appearance of their results, and that they look younger, rested and refreshed.
A facelift helps turn back the clock, however it does not stop the ticking. The duration of improvement cannot always be accurately predicted. If wrinkling and/or sagging are severe, it will obviously be a while before the condition becomes as bad as it was before surgery; usually about 10 years. If the aging process in the face is very rapid, the wrinkling and sagging may re-occur more rapidly.
Schedule a Consultation
If you are tired of looking in the mirror and seeing a face that looks older than it feels, a facelift is something to consider.
We understand that it is a big decision to make. Therefore, please do not hesitate to benefit from Dr. Ovchinsky's knowledge and great expertise so you could feel more comfortable and confident during your decision making process.
FAQ
Who Is A Candidate For A Facelift?
Both men and women may be candidates for a facelift. Patients may request a facelift beginning in their forties all the way up to their eighties. In general, patients want to have a facelift to look younger. That is certainly nothing to be ashamed of. Patients often tell that they feel young, healthy, and energetic but look much older. They may feel or even be told that they look tired, angry, or displeased when in fact they feel energetic and happy. A facelift can make you look younger, fresher, and more energetic. If you are considering a facelift, think about your true motives and whether a facelift is the answer. Be honest with your surgeon so that he may advise you with your decision.
How "Pulled" Will I Look After Facelift?
Many of our patients report that, upon return to work and routine daily activities, friends and acquaintances make the following remarks: "Gee you look great. Did you change your hairstyle?" or "Have you been on vacation?" Dr. Ovchinsky prides himself in providing a naturally looking results which don't have a stigmata of surgery.
Will a Facelift Help The Dark Circles And Bags Under My Eyes?
If you have dark circles and bags under your eyes, you are most likely hoping for the benefits of a blepharoplasty (eyelid lift) which often uncovers hidden beauty of the eyes. A facelift may provide some improvement, however, it will not meet the expectations of most patients whose primary concern is the bags under or dark circles around the eyes. It is most common that patients with these two concerns, have a combination of procedures which may include facelift, blepharoplasty, and skin resurfacing. Also keep in mind that a facelift does not address the surface or textural changes (such as fine wrinkles) in the skin.
Will a Facelift Get Rid of All My Wrinkles?
As we age, our skin loses its elasticity. A facelift is most often performed to "lift" and remove sagging skin and as a result reduce some wrinkles, but not all. Fine skin wrinkles usually are not affected by facelift and may require other treatments such as DYSPORT®, Xeomin, fillers, or skin resurfacing. While patients commonly see some improvement in nasolabial folds and marionette lines (wrinkles below the corners of the lip), those will not be completely effaced by facelift and commonly require adjunctive treatments, such as fillers or fat transfer. Wrinkles around the mouth don't get affected by facelift at all and need to be addressed with other modalities.
Who Should Not Have A Facelift?
A facelift is a lengthy and complex procedure. It also demands relatively healthy skin if serious complications are to be avoided. Because of this, patients with any significant medical problems including heart, lung, or kidney disease, vascular disease, blood clotting problems, or autoimmune diseases should, in the majority of cases, not have this procedure performed. There are a few rare skin disorders where facelifts should also be avoided. These include progeria (premature aging disease) and Ehlers-Danlos (collagen defect) syndrome. Smokers, no matter how few cigarettes they smoke, should not have a facelift performed unless they completely abstain from cigarettes both before and after surgery. The length of time to abstain will vary depending on the surgeon but will be at least two weeks before and two weeks after surgery. A nicotine patch is just as harmful as a cigarette and cannot substitute for abstinence. A smoker who wishes to have a facelift must be honest with themselves and their surgeon or horrible complications can result including loss of a large portion of the skin on the face requiring reconstructive surgery. Finally, patients with unrealistic expectations should avoid this procedure. As discussed above, a facelift is not the answer for major problems occurring in your life. In addition, while it may make you look younger and refreshed, you will not look like a teenager. Facelift simply reverses some of the changes that have occurred because of aging. The only way to know if you are being realistic is to talk honestly and openly with your surgeon.
What Happens During My Consultation With Dr. Ovchinsky?
During your initial consultation with Dr. Ovchinsky, you will have an opportunity to discuss all the details about your face and neck that are bothersome and need improvement. Dr. Ovchinsky will take your full medical history and will perform a detailed examination of your face and neck while talking it through with you and describing his findings. Your preoperative photos will be taken. Dr. Ovchinsky will then discuss with you the available surgical options tailored to your particular situation. Once you have decided to proceed with the surgery, the consent forms will be signed, and further instructions and prescriptions will be provided. Full payment is made prior to surgery (or financing is arranged). You will have a medical clearance done by your primary care physician which may include blood work, chest X-ray and EKG test.
What Do I Need To Avoid Before Surgery?
If you are on "blood thinners," you will be asked to stop them approximately one week prior to surgery. We also ask that you avoid certain over-the-counter medications. If you are taking some herbal supplements, you should stop those as well as they may contain blood thinning substances. Also, you have to completely quit smoking at least two weeks before surgery.
What About My Daily Medications Before Surgery?
You will have a preoperative appointment well in advance of your surgery when we will review all mediations with you. If you are on "blood thinners," you will be asked to stop them approximately one week prior to surgery. We also ask that you avoid certain over-the-counter medications. You may continue taking most routine medications up until the morning of surgery with a small sip of water.
What Are The Potential Risks For This Procedure?
The most common significant complication of a facelift is a hematoma – a collection of blood under your skin. It occurs in about 5% of facelifts. Dr. Ovchinsky spends great deal of time during surgery making sure that all potential sources of bleeding are controlled. He, along with your anesthesiologist, will try to keep your blood pressure low during and after surgery to try to minimize the chance of bleeding. He will also try to keep you relaxed and comfortable. If you do get a hematoma, most of the times it is very small and will resolve by itself or may need to be aspirated with a needle in the office. In cases of a larger hematoma, you may have to go back to the operating room to remove the blood collection and control the bleeder. The most dreaded complication of a facelift is an injury to the facial nerve. This nerve stimulates all of the muscles in your face which allow you to make facial expressions: smiling, frowning, kissing, etc. The injury to the facial nerve is very rare, less than 1% of surgeries. Even if it does occur, the majority of the time it is temporary. It may take anywhere from a few days to a year for the nerve to recover depending on the extent of injury. If the nerve is cut, the injury will likely be permanent. Other potential complications of facelift surgery procedure include infection, loss of skin, unattractive scars, facial asymmetry, pulling the earlobe down, and facial numbness.
What Type Of Anesthesia Is Used?
All types of anesthesia can be effectively used for facelift surgery. The choice between local, intravenous or general anesthesia largely depends on the type and extent of the facelift, patient's preference and medical status.
Where Are The Incisions Made?
Incisions are generally made starting under the temporal hair tuft, going down in front of the ear, around to the back of the ear, and then into the hair behind the ear. The incision in front of the ear is often partly hidden by placing it behind the tragus (the cartilage "bump" in front of the ear opening). The incision behind the ear is sometimes continued along the hairline in cases where a lot of skin is removed from the lower face and neck. These incisions are made on both sides of the face. Often, an additional incision is made under the chin to tighten the muscles in the neck and remove some of the fat in the neck. If placed well, the scars from these incisions are often difficult to see.
What Are The Different Facelift Techniques Used?
The primary deep structure which will be tightened during the surgery is called the SMAS (SubMuscular Aponeurotic System). It is a muscular-fascial layer under the skin. Today, most surgeons will tighten the SMAS as the studies have shown that SMAS tightening and repositioning, and not just pulling the skin, gives a better and longer lasting result. Even though more structures are being pulled, the patient is actually left with a less "pulled look" (which nobody wants). In previous years, when only the skin was pulled, surgeons would put a lot of tension on it, worried that the skin was going to stretch back some. Now, since the deeper structures are pulled as well, the skin does not have to be pulled as much. The "pulled look" is avoided, the incisions healed better and faster, and the patient looks better.While pretty much all contemporary facelift procedures involve some degree of SMAS manipulation and tightening, it is the extent of this manipulation that differentiates various types of facelifts. So called "SMAS plication" involves overlapping the SMAS tissue with the sutures thus tightening it. This technique avoids dissection of the SMAS and, while being faster option it may not allow for sufficient SMAS mobilization thus limiting the final results. "SMAS imbrication" technique involves dissection under the SMAS layer for a various length, pulling the SMAS, excising its excess and securing the SMAS in a new lifted position with sutures. This is probably one of the most common facelift techniques used as it combines the benefits of good SMAS mobilization (and therefore good final results) with a limited faster dissection of the tissues and nearly complete avoidance of the facial nerve during the surgery. "Deep plane" facelift involves more extensive dissection of the SMAS which is carried all the way to the nasolabial fold. The advantages of this approach is excellent mobilization of the SMAS allowing for a significant degree of facial tightening and potentially providing longer lasting results. Some disadvantages include longer dissection and, therefore, longer surgical time, and direct exposure of the facial nerve with a potentially increased risk for facial nerve injury (albeit still very minimal risk)
What Happens On The Day Of Surgery?
You will arrive at the surgical facility accompanied by a family member or a friend. You will not have eaten or drank anything since midnight the night before. You will be checked in and your vital signs will be taken. Dr. Ovchinsky will mark your face with a marker. You will then be taken to the operating suite where an intravenous line will be started. You will be given a sedative in your I.V. to help you relax and get as comfortable as you can be before the actual procedure
How Long Does The Surgery Take?
A facelift may take anywhere from 2 to 6 hours depending on the type of surgery (see above), the degree of facial laxity, other accessory procedures performed at the same time (platismoplasty- neck tightening, chin implant, blepharoplasty, buccal fat reduction, etc). One thing to remember is that a faster facelift is not necessarily a better one
When Will I See The Final Results?
Depending on the technique used, you may have swelling and bruising for as little as one week or up to a few months. Most of the swelling, regardless of technique, will resolve in the first month. For the techniques in which the goal is to obtain a long lasting result, where the deeper structures are manipulated, the swelling may last longer. Therefore it may take anywhere from one month to six months to really see the final result
Are Drains Placed?
More commonly than not two small plastic drains are placed (one on each side) at the end of the surgery to allow the drainage of small amount of blood and tissue fluids in the immediate postoperative period. The drains come out in the hair behind the ears. The drains are usually removed after 24 to 48 hours.
What Happens After Surgery?
You will go to the recovery room for a few hours until you are fully recovered from anesthesia. Once you are stable you will be taken home (or to a hotel) by your family member or a friend. You will want to stay relaxed for the first few days. You will need to keep your head elevated when in bed to help with faster resolution of swelling. You should begin to start walking, eating, and using the restroom the day after surgery. Your dressing and drains will be removed after 1 or 2 days. Your activity can slowly increase each day but it will take up to 2 weeks before you start to feel like your old self again. You should avoid any strenuous activity for 4 weeks. You will need to take medication prescribed to you by Dr. Ovchinsky, which usually include antibiotics, pain medicine, antibiotic ointment for the incisions, and occasionally anti-nausea medications
Do I Go Home After The Surgery?
Most facelifts are done on an outpatient basis. Because you will go home after receiving sedation, you will need to make arrangements for a responsible adult to drive you home, to stay with you overnight and to drive you to our office for your first postoperative appointment. Your first appointment is usually next day after surgery.
How Much Bruising, Swelling, And Pain Is There?
There may be some bruising, primarily in the neck region and around the ears. The bruising will usually last 2 weeks but becomes less noticeable each day after surgery. The majority of swelling will be in the face. The swelling will last anywhere from 2 weeks to 3 months depending on the technique used. The majority of the swelling, however, will be gone by 3 to 4 weeks. Most patients who have facelift surgery say how surprised they are at how mild the discomfort is that they experience. Patients more typically complain of tightness from swelling or a pulling sensation under the chin. Understandably, after any surgical procedure, some discomfort can be expected. All patients are provided with prescriptions for pain medication. It is uncommon for patients to report unmanageable pain after surgery
Is There a Numbness After Facelift?
Numbness, especially near the incision lines, is most noticeable in the immediate postoperative period. Many patients report resolution of numbness within about six weeks following facelift although patients are told to expect it to lasts up to three months.
When Can I Get Back To Work?
You should plan on being off work for about 2 weeks. If your work is strenuous, you may need more time off
When Can I "work out?"
Aerobic activities should be avoided for three weeks following surgery. Any activity that potentially increases blood pressure will increase the amount of time it takes for postoperative swelling to resolve.
Will I Have To Change Any Bandages?
Dr. Ovchinsky usually places a bandage around your face and neck immediately after the surgery, which he usually removes the next day. At the same time the drains, if there are any, are removed. You will be given an elastic face and neck support bandage to be used during the first week after the surgery.
Will There Be Stitches That Have To Come Out?
The sutures that will need to be removed are the ones placed in front of the ear. Dr. Ovchinsky will remove these sutures in approximately 7 days. The remainder of the sutures (in the temporal area and over the incisions behind the ear) are absorbable and don't need to be taken out. The sutures near your ears will require some simple care. We will ask you to use a Q-tip to cleanse them with peroxide and apply an antibiotic ointment twice a day to keep the sutures soft. In about 1 week, when the time arrives for suture removal, sutures that have been lubricated glide out easily.
When Can I Shower?
Other than the wound care mentioned, it is important to keep the sutures dry. It is very important that you take a shower and wash your hair the morning before coming in for suture removal. Once we remove the sutures, steri-strips (butterflies) may be applied and you will not be allowed to shower for about three more days. As long as you keep your head dry, you may bathe at any time following the procedure.
Are There Any Dietary Restrictions Following Surgery?
No. Patients can eat whatever they want. Advance your diet from liquids (fruit juice, milk shake, etc.) to soft food (pudding, macaroni and cheese, mashed potatoes and gravy, oatmeal, pasta) to solids as tolerated. To prevent dehydration, please drink as much juices and nutritional fluid as possible.
How Long Should The Results Last?
The longevity of the results is dependent on several factors. For patients who do not smoke, do not abuse the sun, are in good general health and have good genetics, a facelift can last upwards of 10 years. For patients who elect to abuse their skin and body, a facelift will only last up to five years.The duration of the results also depends on the type of facelift, on the patient's skin and tissue quality, age, habits (sun exposure and smoking) and overall health. When the deeper structures are tightened, the results are longer lasting. Everyone will continue to age, but will always look younger than had they not had the procedure
What Is Special About The Way Dr. Ovchinsky Does The Surgery?
Dr. Ovchinsky has been fortunate to train with and observe the facelift techniques of many talented surgeons in the field and has combined the best aspects of each technique to create his own facelift procedure. More importantly, Dr. Ovchinsky tailors his facelift technique to an individual patient rather than using the same "run of the mill" surgery on everybody. The technique he uses causes minimal pain, has natural results, and is long lasting. The vast majority of patients are quite surprised afterward at how little discomfort they have and how quickly they return to normal activity. Most patients have minimal bruising. Finally, with Dr. Ovchinsky technique and attention to details during skin closure, scars are typically minimal and are often difficult to see once they have fully matured