Rhinoplasty
Conveniently located to serve the areas of New Jersey and New York
Dr. Ovchinsky has been named "Best Rhinoplasty Doctor in NJ" in 2018, 2019, 2020, 2021 and 2022 by New Jersey Monthly Magazine and Top Docs.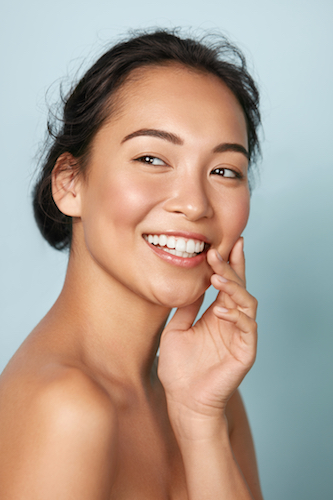 Dr. Ovchinsky, a double board-certified facial plastic, and head & neck surgeon serving Short Hills,NJ and Brooklyn, NY, will provide you with the highest level of expertise in both esthetic and functional rhinoplasty. This dual training allows Dr. Ovchinsky to know the nasal anatomy and function literally "inside out" and to be able to encompass esthetic and functional (breathing) improvements in one procedure without compromising either.
Before and After Photos
The nose, being the most defining central feature of the face, has a very significant impact on how a person looks. Even a slight alteration in nasal shape and structure can often greatly improve one's appearance.
Procedure
Rhinoplasty (nose job) is the surgical procedure that involves changing the shape and size of the nose. Plastic and reconstructive surgeon Dr. Ovchinsky performs rhinoplasty in New York and New Jersey to reshape the nasal bones and cartilages in order to produce a balanced and harmonious nose that blends with the person's facial features.
Considerations
Rhinoplasty improves the shape and size of the nose. The size and shape of the nostrils can also be changed. Rhinoplasty can remove a hump, change the shape of the nasal tip, and straighten the nose. The goal of rhinoplasty is often to achieve better harmony between the nose and the other facial features. Dr. Ovchinsky is a double board certified facial plastic and head and neck surgeon in NJ who performs hundreds of rhinoplasty surgeries in New Jersey every year. He is considered to be one of the best rhinoplasty surgeons in New Jersey .
Discovering Dr. Ovchinsky is a result of my 10 years search for finding a plastic surgeon who I can trust enough to let him/her have a surgery on my most prominent future of my face. I am extremely satisfied with my discovery. He is an ENT (knows the functionality aspect of nose), he is plastic Surgeon and to top it off he only works on Neck and up (don't worry he doesn't mess with your brain lol) and if that is not enough Rhinoplasty is his specialty. I have been to many many consultations in and out of the state. After I have done tons of research about his credentials I went for a consultation and I knew right there that I am going to have a nose I always wanted. He is the BEST, knowledgeable, confident, experienced, and supper nice, calm and kind. I am glad that now that I am about 40 I found him, and I don't need to be worried about aging anymore.
Read More Testimonials
Are you a Candidate for Rhinoplasty
It cannot be overemphasized that good communication between a patient and a doctor is essential in the planning of rhinoplasty. Nasal anatomy, skin type, history of prior nasal surgery, ethnic background, and age are important factors to be considered in the preoperative discussion and help determine if you'd make a good candidate for rhinoplasty.
During the preoperative evaluation, Dr. Ovchinsky will both listen carefully to your concerns and desires, not only with respect to what you want to be changed but also to what you wish to remain the same. Today, computer imaging is an enormous help in the exploration and dialogue between you and your surgeon. By utilizing the imaging system, Dr. Ovchinsky would be able to greatly facilitate the discussion and mutual understanding and show you a realistic view of what can be accomplished by surgery.
Dr. Ovchinsky is equally versatile in either the "closed" or "open" rhinoplasty techniques. In the closed technique, all incisions are concealed inside the nostrils.
In open rhinoplasty, most of the incisions are also made inside the nostrils except for one small incision over the columella – the narrow strip of the nasal skin at the bottom of the tip. The selection of one approach over another is based largely on the nasal anatomy and surgical goals and not on the mere presence or absence of the external incision.
Types Of Rhinoplasty
Rhinoplasty has become a popular procedure for both men and women who desire an improvement in the look of their noses. When performed on men, a high degree of care is taken to ensure that the nose fits in well with the rest of the masculine features present. When performing the surgery, we make sure that the nose accentuates the lips, jaw, eyes, and other masculine facial characteristics of the patient. Rhinoplasty has demonstrated to help men increase facial uniformity, boost nose form and/or height, minimize the presence of inadequacies on the nose bridge, and remove the bulbous tip of the nostrils. If you are located in the New York or New Jersey area and are interested in finding out more about Male Rhinoplasty, contact us today to schedule your consultation with Dr. Ovchinsky.
Ethnic rhinoplasty is a surgical procedure designed to improve the look of the nose while maintaining a person's unique ethnic appearance. Every nose is different and our goal when performing rhinoplasty isn't to make them all look the same. When developing a surgical plan, we take into account a patient's ethnic identity and work to create a nose structure that looks appealing but is also in line with their individuality. If you are located in the New York or New Jersey area and are interested in finding out more about Ethnic Rhinoplasty, contact Dr. Ovchinsky and his team at The Plastic Surgery of Shorthills to schedule your consultation.
Rhinoplasties may be done with parental permission on youth or juvenile applicants under the age of 18. Rhinoplasties are usually performed on young people who experience deformities or following facial injuries, where there are complications with breathing. It is also performed for cosmetic reasons and serves as a way to improve one's self-image and confidence by altering the appearance of the nose. If you are located in the New York or New Jersey area and are interested in finding out more about Teen Rhinoplasty, contact us today to schedule your consultation with Dr. Ovchinsky.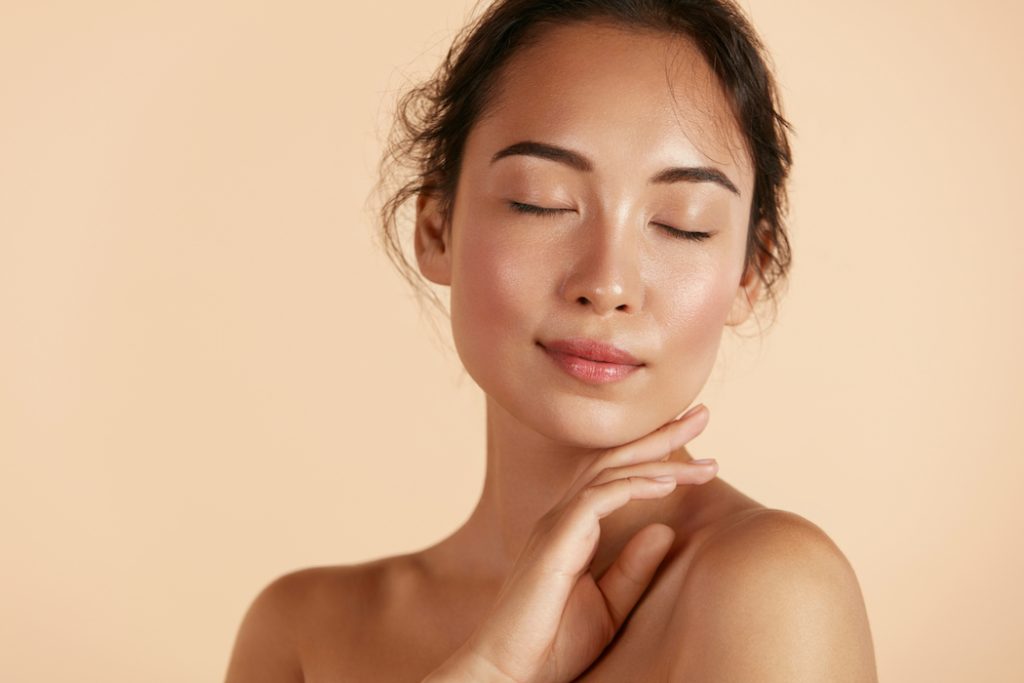 Rhinoplasty is among the most complicated facial procedures available and involves extreme attention to detail. Since the techniques involved vary between males and females, a transgender rhinoplasty is designed to accommodate a patient's particular needs. This type of surgery is used to create a more feminine or masculine nose with respect to the patient's distinct gender characteristics. Due to the major variations in male and female nostrils, transgender rhinoplasty is among the most complicated forms of rhinoplasty.
Because a male genetic nose is normally significantly broader and bonier compared to a female nose, extra skill is required to adjust the nostrils to better fit a more feminine appearance. MTF rhinoplasty, often known as rhinoplasty for facial feminization, includes judicious care to the respiratory anatomy and trachea to guarantee that the sizeable alteration does not affect ventilation.
On the other hand, FTM (female to male) rhinoplasty involves making the nose wider and more masculine. To achieve this, extra tissue and cartilage are applied to the nostrils.
If you are located in the New York or New Jersey area and are interested in learning more about Dr. Ovchinsky's expertise in Transgender Rhinoplasty, contact us today to schedule a consultation.
Sometimes a surgical procedure may not pan out the way you expected and results in a less than desirable appearance. In situations like this, revision rhinoplasty is an excellent solution. This procedure is designed to reconstruct a nose that has previously undergone surgery to correct any issues that may have been brought about by the initial surgical procedure.
All of these noses require different approaches and techniques to achieve the beautiful result the patients are looking for. Dr. Ovchinsky has years of experience with ethnic rhinoplasty surgery working with a diverse patient population in Brooklyn and the greater New York area.
Nose Surgery Procedures:
Nasal Tip Surgery
Many patients present for rhinoplasty because they are unhappy with the appearance of the nasal tip: it may be too big or bulbous, sticking out too far away from the face (over-projected), droopy, or excessively pinched and collapsing (especially common in patients who had prior rhinoplasty surgery). While there are many nasal tip techniques involving modification of the nasal tip cartilages, with time certain techniques may result in excessive narrowing or asymmetries of the nasal tip with or without nasal obstruction.
Dr. Ovchinsky's techniques rely primarily on the preservation of the tip cartilage strength, precise suture placement, and the use of cartilage grafts to create a natural-appearing and stable nasal tip contour, no matter whether this is your first nose job or a revision.
Nasal Dorsum
Dorsal hump reduction is one of the most commonly performed procedures in rhinoplasty, usually resulting in a much more pleasing profile and smaller appearing nose. While removal of the dorsal hump may seem like a fairly straightforward procedure, it is very important, especially in cases with very prominent dorsal humps, to provide the nose with extra support in order to prevent future weakness and collapse of the dorsal cartilages.
In many instances, especially in cases of prior nasal trauma, nasal bones may be shifted to one side or another, thus causing nasal deviation and asymmetry. This problem can be successfully corrected during rhinoplasty. It is very important to carefully examine these noses internally prior to surgery since most of them have septal deviation as well. The correction of septal deviation should never be neglected. If uncorrected, it may lead to incomplete improvement of nasal deviation and persistence or worsening of nasal obstruction after the surgery.
Contact
If you are considering Rhinoplasty or Revision Rhinoplasty surgery in Brooklyn and the greater New York area, you have come to the right place. Dr. Ovchinsky specializes in naturally beautiful rhinoplasty results and is passionate about rhinoplasty surgery. He has made it a focus of his facial plastic surgery practice and strives to deliver a beautifully contoured facial aesthetic. He is the author and the teacher of the latest rhinoplasty techniques proven for reliability and longevity, and places as much importance on function (good breathing) as on appearance. It is Dr. Ovchinsky's paramount goal that your satisfaction with your beautiful new nose lasts for a lifetime.
FAQ
What is rhinoplasty?
Rhinoplasty, also known as a nose job, is a cosmetic procedure that involves changing the size and shape of different areas of the nose as a way to enhance its overall appearance. By making changes to areas like the bridge, tip, and nostrils, rhinoplasty can be performed to effectively refine or redefine the way the nose looks.

There are 4 distinct types of rhinoplasty:
Cosmetic rhinoplasty improves the nasal shape and its proportion to the rest of the face.

Functional rhinoplasty alleviates breathing difficulties.

Reconstructive rhinoplasty rebuilds a severely damaged or congenitally malformed nose.

Revision rhinoplasty corrects a suboptimal result from earlier surgery.
Am I a good candidate for rhinoplasty?
In general, individuals who are unhappy with the appearance of their nose and desire to change it to better suit their aesthetic needs are good candidates for rhinoplasty. Some may be unhappy with certain features, such as a prominent hump on their bridge or a large round nasal tip. Others may feel like their nose is simply too large for their face.Rhinoplasty can also be performed to correct deformities and damage caused to the nose by injury or trauma.

What is the difference between open rhinoplasty and closed rhinoplasty?
Open rhinoplasty is a surgical approach that involves making a small incision underneath the nose on the small section of flesh known as the columella. This allows the surgeon to lift the tissue so that they have a better view of the surgical area, along with easier access. With closed rhinoplasty, incisions are made inside the nose through the nostrils, minimizing surgical marks.

Is rhinoplasty a painful process?
The procedure is performed under general anesthesia, so no pain will be experienced during surgery. Some pain and discomfort can be expected during the first part of the healing process. Any pain can be managed with medication provided following your rhinoplasty.

Can rhinoplasty help improve my breathing?
While rhinoplasty is most commonly used for aesthetic purposes, the techniques employed can also be utilized to help improve the patient's ability to breathe through their nose. This is done by removing obstructions in the nasal pathway, straightening the pathway, or making the pathway slightly larger so that it becomes easier for air to pass through it.

Will it be obvious that I had a nose job?
People who know you well and are familiar with the appearance of your nose will be able to tell there is a difference. If the open approach is chosen, a majority of the incisions are still made internally where they will be hidden, and the small incision made on the outside of the nose should be difficult to detect.

How old do I have to be to undergo rhinoplasty?
It is important for the nose to be finished developing before undergoing surgery. If further development or growth occurs after the surgery, then it can compromise the results of the rhinoplasty. On average, the nose is finished growing at age 16 for boys and age 15 for girls.

How long will it take to recover?
Once the procedure is complete, you will be able to return home. You will need someone to drive you home and assist you during the first day of recovery.
A nasal splint will need to be worn for the first week or so of the recovery period to assist with healing. Bruising and swelling are to be expected and will dissipate over time. Strenuous activity will need to be avoided for a minimum of four weeks.
When can I return to work?
Most patients can return to work and a majority of their normal activities after around one week. However, some bruising and swelling may still be visible, which can make some people feel self-conscious.

How much pain can I expect from rhinoplasty?
As surprising as it may sound, recovery from rhinoplasty surgery is not a very painful one. Patients may expect some discomfort as the head and nose may ache during the first few days after surgery. Most of the post-operative discomfort is typically related to nasal congestion for a week or so after surgery, and feels like a head cold. Pain medications are commonly prescribed for after the surgery to be used on as needed bases.

What sort of recovery is there after rhinoplasty?
Swelling and bruising are common, and patients may experience some nasal discomfort. Some bloody discharge can also occur for the first few days, but rarely is there a severe bleeding. Stitches and nasal splint (white firm plastic) are usually removed within one week. Though some subtle swelling of the nose can take as much as a year to fully fade out, the majority of swelling will clear up in about two weeks. Dr. Ovchinsky almost never uses nasal packing after the surgery, which dramatically reduces postoperative discomfort.

Do I need to take any medications after the surgery?
Dr. Ovchinsky usually prescribes a prophylactic antibiotic to be taken for 1 week after the surgery. Pain medications are prescribed to be used on as needed bases. Dr. Ovchinsky also recommends to use Saline nasal spray starting the following day after the surgery to gently irrigate the nose.

How much time off from work or school will I need after rhinoplasty?
Most rhinoplasty patients find that they can return to work/ school in about one week. Even sooner return to work/ school is possible for those who don't mind appearing publically wearing nasal splint and don't do any physical work. Patients should avoid strenuous activities for two to three weeks and should avoid contact sports with a potential trauma to the nose for at least 6-8 weeks.

When will the stitches be removed after my rhinoplasty?
If external incision is made, it is closed with very fine sutures which are usually removed in about one week after the rhinoplasty procedure. Internal incisions are closed with absorbable sutures and don't require any suture removal.

How frequently should I follow up with the doctor after the surgery?
Dr. Ovchinsky usually sees his rhinoplasty follow up patients at 1 week after the surgery, at which point nasal splint and sutures are removed. The subsequent follow ups are at 1 month, 3 months, 6 months and 12 months after the surgery. All patients are encouraged to follow up at any time in the interim if they have specific problems or concerns.

What sort of risks or complications can occur with rhinoplasty?
Although not common, some of the potential complications that can occur with rhinoplasty are as follows: bleeding, infection, adverse anesthesia reactions, septal perforation or hematoma, persistent or worsened cosmetic problem or nasal obstruction, poor scarring, and the need for additional surgery. Dr. Ovchinsky will oversee your care until complete healing has occurred and satisfactory, realistic results have been obtained.

How long does it take for a nose to heal completely from surgery?
Although our patients are generally out and about within 10 days of the procedure (sometimes within a day), the tissue concealed beneath the skin of the nose takes about a year to heal completely from surgery. Of course this healing process happens indiscernibly and does not affect patients' life style.

Will I need to have any post surgery touch-ups?
Because rhinoplasty is a complicated procedure and neither you nor your surgeon can fully control your healing process, there is a chance you may need to have some post-surgery touch- up/ revision procedure. About 10 percent of rhinoplasty operations require touch-up procedures, ranging from small touch ups in the office to a full revision surgery in the hospital.

What is the cost of rhinoplasty?
The cost of the surgery is determined by the complexity of the operation, whether the surgery is primary or revision, and whether there is an insurance based component of the procedure. All patients get a detailed surgical quote at the end of their consultation visit which is tailored to their specific circumstances.

Is the cost of rhinoplasty covered by insurance?
Though some amount of coverage may be available for rhinoplasty procedures performed for functional (breathing improvement) purposes, most rhinoplasty procedures are considered cosmetic and are not covered by insurance. The determination whether there is a place for insurance coverage is usually done at the initial consultation and is primarily based on patients' symptoms, history and physical examination findings.

Can rhinoplasty be financed?
Financing is available for many plastic surgery procedures. Our office manager/ patient coordinator will go over available payment options at the end of your consultation visit.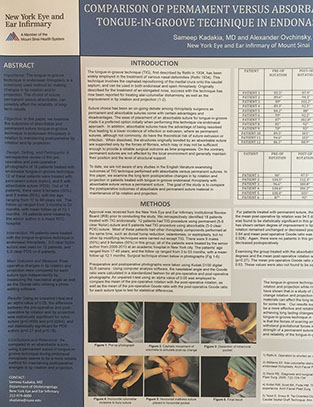 Dr. Ovchinsky's research work on rhinoplasty techniques was presented at the Annual Meeting of the American Academy of Facial Plastic and Reconstructive Surgery in Dallas, TX, October 2015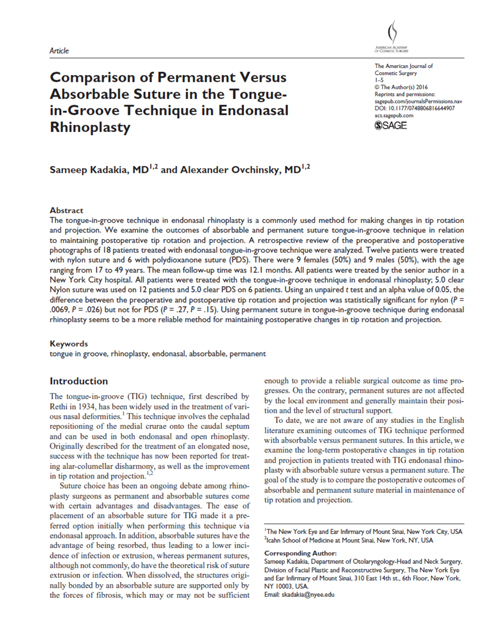 Comparison of Permanent Versus Absorbable Suture in the Tonguein- Groove Technique in Endonasal Rhinoplasty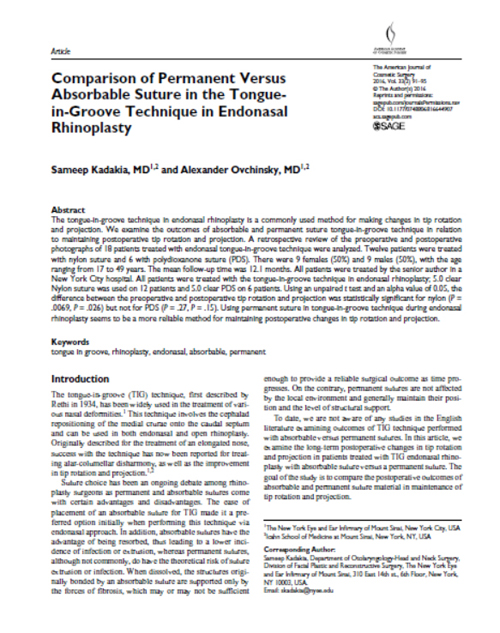 Comparison of Permanent Versus Absorbable Suture in the Tonguein- Groove Technique in Endonasal Rhinoplasty Vol. 33(2) 91–95