Ultherapy
Conveniently located to serve the areas of New Jersey and New York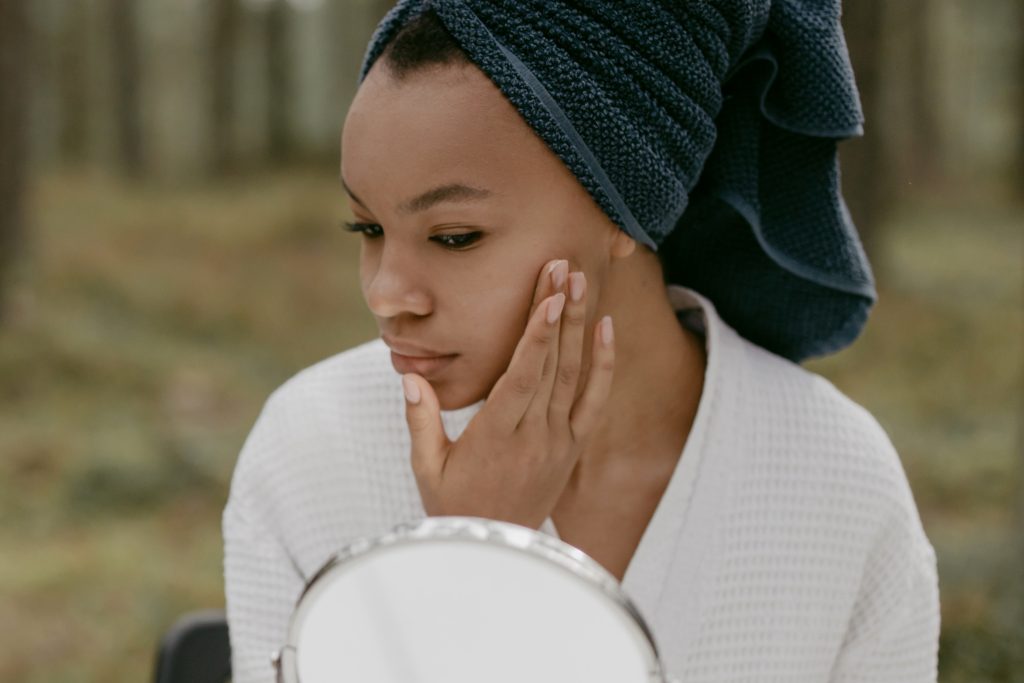 A Non-Surgical Solution for Lifting and Toning Loose Skin
Ultherapy is a new, non-surgical lifting procedure that uses ultrasound technology to strengthen and tone your skin from deep within gradually.
In less than an hour – and virtually without downtime – you'll be well on your way to tighter, firmer, more youthful-appearing skin and a more refreshed and uplifted face. Patients unhappy with the sagging or laxity of their skin due to aging, particularly on the neck, chin, and brow, may benefit from Ultherapy.
Ultherapy is a new, non-surgical lifting procedure that uses ultrasound technology to gradually strengthen and tone your skin from deep within. In less than an hour – and virtually without any downtime – you'll be well on your way to tighter, firmer, more youthful appearing skin and more refreshed and uplifted face.
Dr. Alexander Ovchinsky is a founder and Medical Director of Plastic Surgery of Short Hills in Short Hills, NJ, and Brooklyn, NY. He is a double board-certified and fellowship-trained Facial Plastic and Reconstructive Surgeon with extensive experience in performing Ultherapy treatments. As a facial plastic surgeon, Dr. Ovchinsky has a thorough understanding of the anatomy of the face and neck, and his staff of experienced medical estheticians can customize the treatment to target specific areas of concern. Your Ultherapy treatment can help you achieve a more youthful, refreshed appearance –  without surgery or downtime. We invite you to book a consultation appointment by calling (973) 379-0101 or completing our online form.
Before and After Photos
About Ultherapy
Ultherapy is the only non-invasive procedure the FDA has cleared for lifting the skin. Ultherapy's technology has six options to target three tissue depths beneath the skin. With Ultherapy's micro-focused ultrasound with visualization (MFU-V), doctors can see variations in tissue thickness and choose the appropriate transducer to customize treatments accordingly. [1] 
In a single session, MFU-V can target multiple tissue depths. Studies show that single- and dual-depth treatments can improve skin laxity in various body areas, including the:
Face
Neck
Abdomen
Knees
Upper arms
Thighs
Buttocks
Elbows
Upper chest
The Anatomy of Aging Skin
Diet and exercise alone cannot improve facial and body skin laxity. As we grow older, collagen production naturally declines, leading to a loss of skin strength and elasticity. However, with the use of ultrasound technology, Ultherapy can stimulate the growth of new collagen, restoring a gorgeous and lifted appearance.
What is the Science Behind Ultherapy?
Ultrasound waves are sound waves with a frequency higher than what is audible to the human ear. In Ultherapy, high-frequency ultrasound waves are focused onto specific layers of the skin, including the dermis and the superficial muscular aponeurotic system (SMAS), the same layer that surgeons target during a facelift.
Ulthera's technology works in two stages to improve skin laxity:
In the first stage, ultrasound energy is concentrated on the skin's deep layers, creating focal points of thermal injury known as thermal coagulation points (TCPs). These points cause collagen fibrils to contract and denature, producing an initial lift.
In the second stage, inflammation prompts the body to create new collagen, leading to a sustained remodeling phase lasting up to a year. [1]
This new collagen replaces existing collagen in treated areas with thermal injury, further tightening and lifting the skin. Overall, the process creates optimal collagen contraction resulting in a more youthful appearance.
Benefits
If you're looking for a non-invasive way to rejuvenate your skin and turn back the clock on aging, Ultherapy may be the solution you've been searching for. Here are just a few of the benefits of this cutting-edge treatment:
A non-surgical alternative to traditional facelifts, offering similar results without incisions, anesthesia, or downtime.
Estheticians can precisely target the treatment area, ensuring the energy is delivered to the intended depth and providing a more effective result.
The results are natural-looking and gradual, avoiding the "overdone" appearance that can come with more drastic treatments.
Lift and tighten the skin on the face, neck, and chest and smooth out lines and wrinkles, making it a versatile treatment option for many patients.
Little to no downtime, allowing you to resume your normal activities immediately after treatment.
Many patients report seeing visible improvements in the firmness and texture of their skin for up to six months or more following treatment.
Ultherapy is a safe and FDA-cleared treatment providing peace of mind for patients seeking a non-invasive solution to their aging concerns.
Ideal Candidates
The ideal candidate for Ultherapy is someone experiencing mild to moderate skin laxity who wants to lift and tighten their skin without surgery. This treatment is suitable for both men and women who want to improve the appearance of their face, neck, décolletage, or other body areas.
It is also recommended for those who have started seeing signs of aging, such as sagging skin, fine lines, and wrinkles, and want to get ahead of the aging process before it advances. However, it's always best to consult a qualified healthcare professional to determine if Ultherapy is the right treatment for your needs and goals. Schedule your consultation by calling (973) 379-0101 today!
Personal Consultation
During initial consultations, we take the time to listen to the patient's concerns and expectations. We will discuss the various treatment options available, including Ultherapy, and help the patient decide if it is the best option for them.
A medical esthetician will thoroughly evaluate the patient's skin and facial structure to determine if they are a good candidate for Ultherapy. We will consider factors such as skin laxity, overall health, and underlying medical conditions. We will also discuss the risks and benefits of the procedure and answer any questions the patient may have.
Throughout the process, Dr. Ovchinsky's team will provide compassionate and attentive care to make patients feel comfortable and confident in their decision. We help patients achieve their desired results while maintaining their natural beauty and ensuring their overall health and well-being.
What Do I Need To Avoid Before Ultherapy?
Avoid using topical creams or lotions containing exfoliants or acids on the area to be treated for at least one week before the procedure; these products can cause sensitivity and irritation to the skin, which can affect the efficacy of the treatment.
Avoid sun exposure or tanning beds for at least two weeks before the procedure.
Avoid taking blood-thinning medications, such as aspirin or ibuprofen, for at least a week before the procedure to reduce the risk of bruising.
It is recommended that patients maintain a healthy lifestyle and avoid smoking and excessive alcohol consumption before the procedure. These habits can have a negative impact on the skin and may affect the results of the treatment.
The Procedure
On the day of the procedure, the esthetician will cleanse your skin and may apply a topical anesthetic to help minimize any discomfort during the treatment. Depending on the area being treated, we may also mark specific areas on your skin to ensure accurate targeting of the ultrasound energy.
We will then use the Ultherapy handheld device that emits ultrasound energy to heat the deep layers of your skin. You may feel warmth during the treatment, but this should subside once the treatment is complete.
Post Procedure
After the procedure, you may experience some redness and swelling in the treated area. This is normal and usually goes away within a few hours to a few days. You may also experience some tenderness or sensitivity in the treated area, but this should subside within a few days.
Most people can resume their normal activities immediately after ultherapy, although some may take a day or two off to rest and recover. Avoiding sun exposure and using sunscreen to protect your skin during healing is important.
How Soon Will I See the Results?
There can be some toning and firming immediately following the treatment, but the full lifting and tightening effect will build gradually over the course of two to three months or so. Many patients have seen results continue to build for up to six months.
Ultrasound technology is a reliable and secure method for achieving tighter facial skin. Single ultrasound treatment of the forehead resulted in an average brow height elevation of 1.7 to 1.9 mm, with more than 83% of treated patients experiencing this effect. [2] 
Cost
If you'd like to make an appointment for a consultation, we can do an evaluation and give you a specific idea of the price. It can generally range between $1000 and $4000, depending on the extent of treatment—call (973) 379-0101 to get started.
FAQ
How Many Treatments Will I Need?
Patients with mild to moderate facial laxity commonly have good clinical results based on just one treatment. Some people with more advanced stages of skin laxity may benefit from more than one treatment — this can be discussed during your consultation.
Is Ultherapy Painful?
There can be some discomfort during the treatment, but we take measures to keep you comfortable, and patients leave happy. You can return to your normal activities right away, and there are no special measures you need to take. Your skin may be a little red, but this disappears within a few hours.
​​Is Ultherapy Safe?
Ultrasound technology has been used for over 50 years, and the FDA has cleared the device we use for this treatment.
How Long Do the Results Last?
You still have fresher, younger collagen after a year, but your skin continues to age. We recommend coming in a year or so after the procedure to assess whether a 'touch-up' treatment may be helpful.
References
Park JY, Lin F, Suwanchinda A, et al. Customized Treatment Using Microfocused Ultrasound with Visualization for Optimized Patient Outcomes: A Review of Skin-tightening Energy Technologies and a Pan-Asian Adaptation of the Expert Panel's Gold Standard Consensus. The Journal of Clinical and Aesthetic Dermatology. 2021;14(5):E70-E79. https://www.ncbi.nlm.nih.gov/pmc/articles/PMC8211327/
Alam M, White LE, Martin N, Witherspoon J, Yoo S, West DP. Ultrasound tightening of facial and neck skin: A rater-blinded prospective cohort study. Journal of the American Academy of Dermatology. 2010;62(2):262-269. https://doi.org/10.1016/j.jaad.2009.06.039