Revision Rhinoplasty
Conveniently located to serve the areas of New Jersey and New York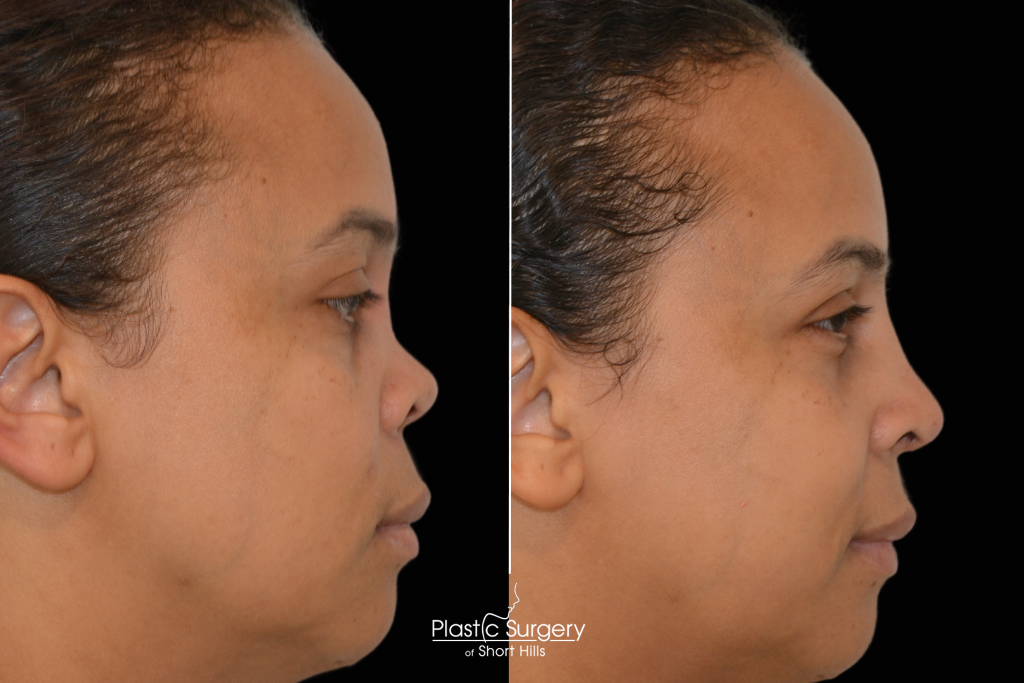 Revision rhinoplasty is a surgery to address functional or cosmetic problems that remain or newly appear after a previous nose job. A patient may embark on an initial rhinoplasty to improve breathing ability or to address cosmetic issues such as nasal asymmetry, bulbous or droopy tip, or a dorsal hump. However, once bandages are removed and the area is healed, they may be left with a nose they are unhappy with.
Although it can be devastating when an initial surgery doesn't turn out as expected, there are solutions. This secondary surgery is a way for patients to get the results they wanted from the original surgery, and achieve a more aesthetically pleasing nose.
Double board-certified Dr. Alexander Ovchinsky is a facial plastic surgeon with office locations in Short Hills, NJ and Brooklyn, NY. He specializes in revision rhinoplasty and has extensive experience in nasal reconstruction. With his help, you can undergo revision rhinoplasty surgery to solve functional or cosmetic rhinoplasty issues. Schedule a consultation at Plastic Surgery of Short Hills by calling (973) 379-0101, or get in touch with our New York office at (718) 646-1234 or contact us using our online form.
Before and After Photos
About Revision Rhinoplasty
Roughly 200,000 rhinoplasty procedures take place in the United States every year. (1)
But within that number, some patients will be dissatisfied with their results. In fact, data shows that between 10-15% of patients seek revision rhinoplasty. (2)
The anatomy of the nose is complex. Its central location in the face, and its intricately interconnected skin, bone, cartilage, and nasal mucosa, make rhinoplasty surgery a very technically demanding task with variable final outcomes. For this reason, many surgeons consider rhinoplasty to be one of the most challenging facial plastic surgery procedures. Given these facts, it is not surprising that nose jobs have one of the lowest patient satisfaction rates of any cosmetic procedure. (3)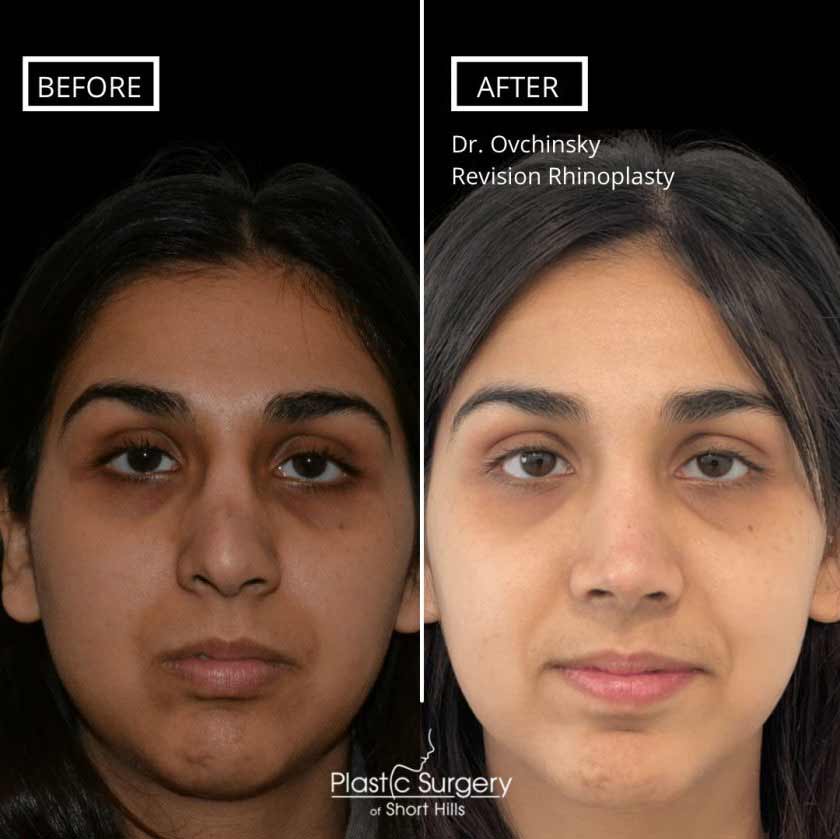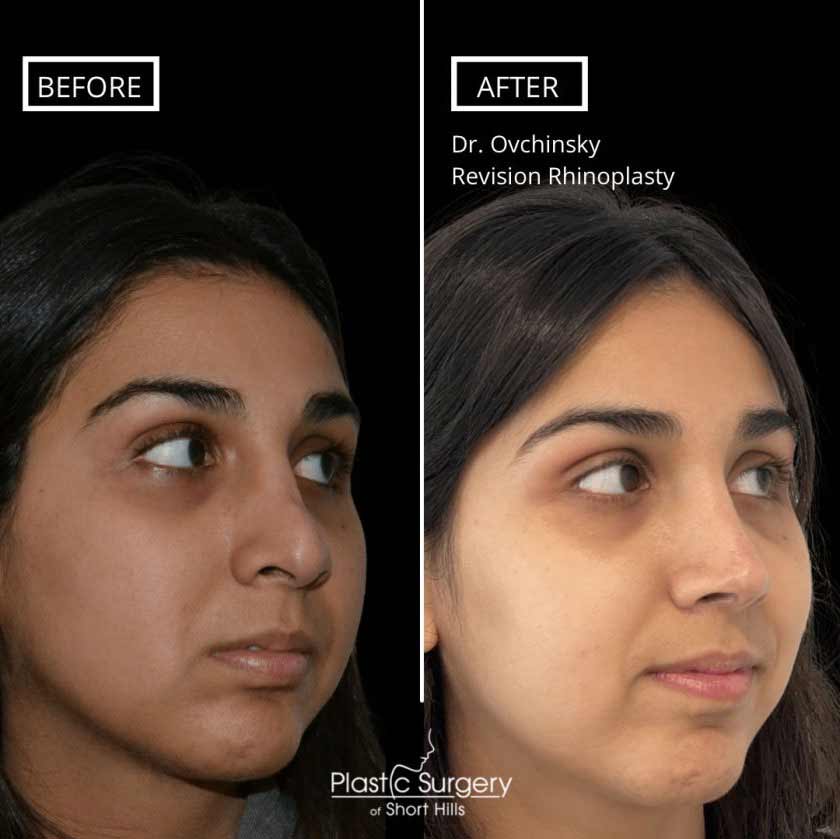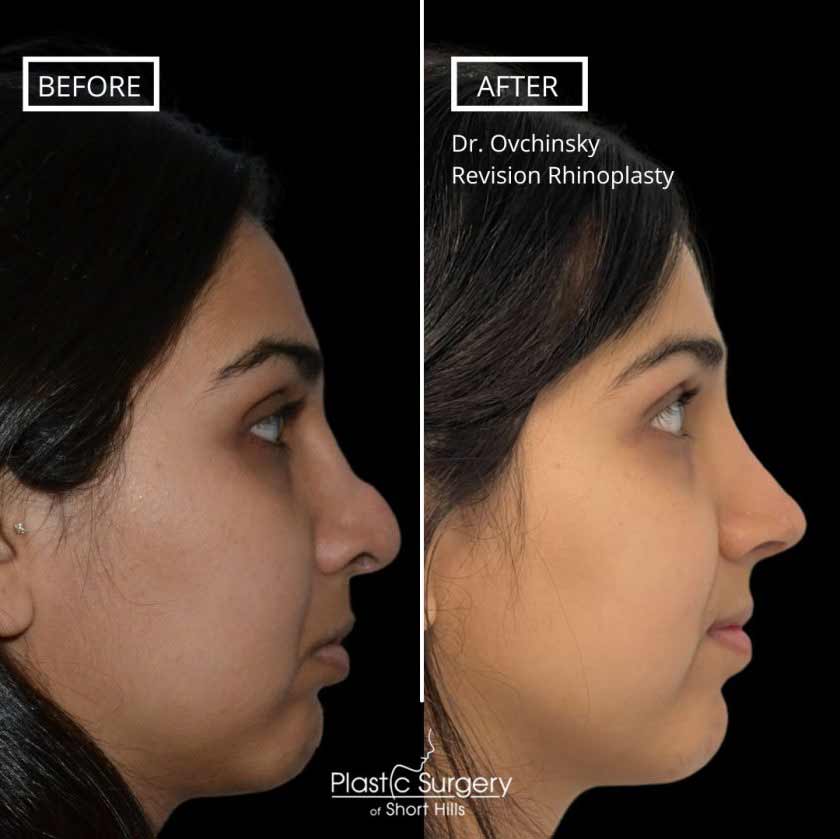 Moving Forward After Frustrating Results
For the recipient, a poor rhinoplasty result is one of the hardest things for someone to deal with. They are reminded of it every time they look in the mirror. Often, they feel some anger, guilt, and frustration over the change in their appearance. The important thing is to move past these feelings to determine what improvements can be made. Selecting the right surgeon, particularly one with extensive rhinoplasty and revision rhinoplasty experience is vital to the success of your procedure. Our patients can be assured that Dr. Ovchinsky fits the bill completely.
The Revision Rhinoplasty Expertise of Dr. Ovchinsky
Revision rhinoplasty requires the highest level of surgical skill and lots of prior experience. And although many surgeons avoid the procedure because of its complexity, Dr. Ovchinsky embraces it. As a revision rhinoplasty authority, he has actively continued his training in its specific surgical techniques throughout his professional career.
Specializing in rhinoplasty and revision rhinoplasty surgery, Dr. Ovchinsky performs minor revisions to extensive reconstructive rhinoplasty with multiple grafts, to restore a patient's nose to not only 'normal' but to attractiveness again. And, as one of only a handful of revision rhinoplasty experts, he frequently gets referrals for some of the most challenging cases, and is almost always able to achieve the most satisfying outcomes for his patients. The technique he uses is state of the art, tailored to each individual case, causes minimal pain, has natural results, and is long-lasting!
What His Patients Say
The vast majority of patients are quite surprised afterward at how natural their noses look, how little postoperative discomfort they have and how quickly they return to normal activity. Most patients have minimal bruising. Finally, Dr. Ovchinsky's attention to detail and use of delicate skin closure techniques, scars are typically minimal and are often difficult to see once they have fully matured.
"I wish I had met Dr. Ovchinsky sooner. My initial rhinoplasty was with another surgeon whose work produced unsatisfactory results, in fact, adding a droop and bulge to the base of the nose. This made me eager to undergo revision rhinoplasty to correct that bad experience. I selected Dr Ovchinsky based on his overwhelming positive endorsements and reviews and I liked what I saw on his website with respect to before/after pictures. I am so glad I chose the right surgeon this time. Almost 2 weeks now after my surgery with Dr. Ovchinsky, I have had a successful surgery, healed well and am very pleased with the outcome. If considering rhinoplasty, what I can add is that I know Dr Ovchinsky to be a skilled surgeon who tells you what is possible and delivers on that promise. Also, the office staff were very efficient in handling all pre-op matters."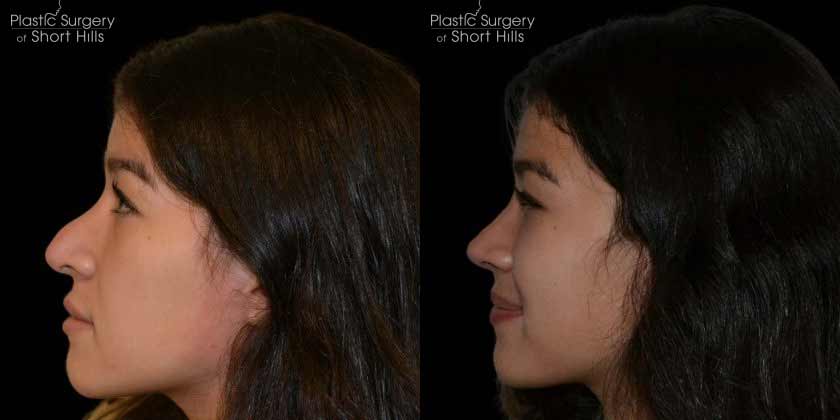 Why Didn't the First Procedure Work?
A rhinoplasty can give people the nose of their dreams, or it can leave them wishing they could make more changes. A lot of the time, patients wonder why it wasn't "done right" the first time. There are many factors that contribute to poor rhinoplasty results, including the following.
Poor Patient Counseling: The patient is not well-informed of the risks and realistic results of their particular surgery. Because of this, they are unprepared and dissatisfied once their nose heals.
Unpredictable healing: While part of the final result depends on a surgical expertise and technique, another important component in final outcome is healing process. Unfortunately, neither patients nor surgeons can fully control this part. Some patients are great healers and are likely to get great results; others may not heal so well and may develop some nasal asymmetries, scar tissue, nasal deviation or other issues over time.
Poor surgical technique: When a surgeon does not have enough experience and misjudges a patient's unique nasal anatomy, results can be unsatisfactory. These include persistent nasal asymmetry, a low set or flat (saddle) dorsum, persistent dorsal hump, a deviated septum, or a drooping, pinched or poorly-defined nasal tip. An initial rhinoplasty can also restrict air flow due to nasal valve collapse , making breathing through the nose more challenging.
Aesthetic Preferences: A surgeon's and a patient's aesthetic preferences may not always be the same. When there is a disconnect in communication between a patient and a surgeon, the surgical result may not be what a patient wants. Patients can be disappointed with "standard" nose jobs with generic results that don't harmonize with their other facial features.
Scar Tissue: Scar tissue develops unpredictably, varying greatly from person to person. For some patients, unusual scar tissue formation negatively affects breathing and appearance.
Benefits of Rhinoplasty Revision
Rhinoplasty techniques have developed considerably over the years. So if you had a nose job a long time ago, you may be surprised to find out how advanced it has become! The benefits of revision rhinoplasty include the following.
Achieves an appealing nose shape in harmony with your other facial features.
Opens the nasal passages to improve airflow through the nasal cavity.
Improves the accompanying symptoms of poor air flow such as mouth breathing and frequent sinus infections.
Allows patients to feel better about their nose, which can boost confidence and lead to better quality of life
Patient Considerations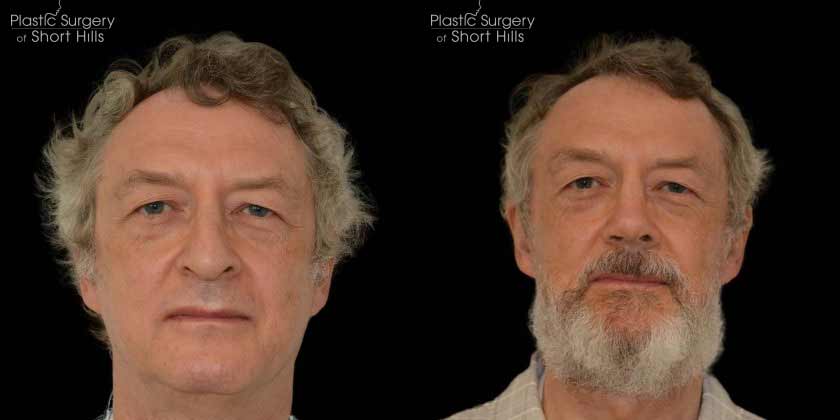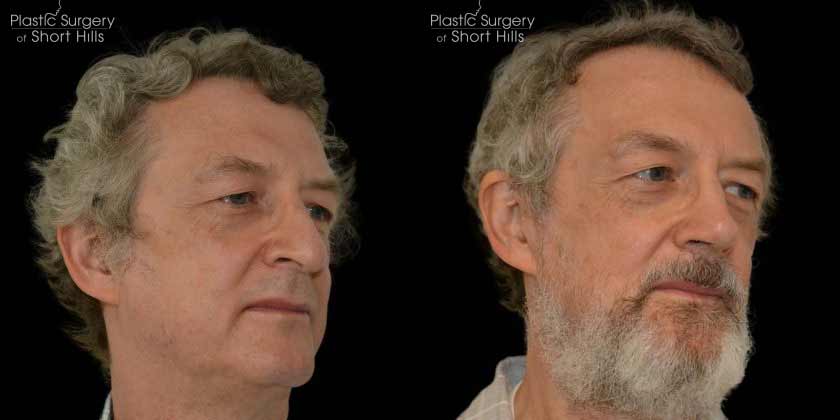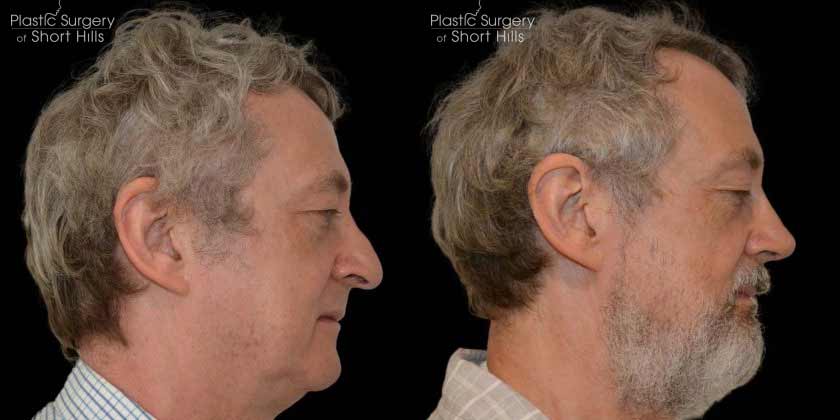 There are many advantages to revision rhinoplasty, but there are some disadvantages. The surgery is usually more complicated, because nasal anatomy has been altered during the original surgery. Dr. Ovchinsky must use caution to rework the nasal tissues, as they may be affected by scarring, thinning, and becoming more delicate than before. Revision rhinoplasty surgery also frequently requires use of cartilage grafts to reshape the nose, either from the rib or from the ear. This means your procedure and your recovery might take longer compared to your primary rhinoplasty. (3)
See how we can help you! Book a consultation at Plastic Surgery of Short Hills to discuss things further with Dr. Ovchinsky and get a personalized treatment plan.
Ideal Candidates
A revision rhinoplasty can improve the results of a prior rhinoplasty procedure. Patients with cosmetic asymmetry, and/or airway narrowing or obstruction should consider a secondary procedure. Revision rhinoplasty patients should be in good physical and psychological health, and have a clear understanding of their treatment plan before their surgery date. Dr. Ovchinsky and his team will work to achieve meaningful results for you and help you find contentment with the shape and functionality of your nose.
Personal Consultation
You will meet with Dr. Ovchinsky to discuss the details of your prior surgery, and the problems it has caused. During the consultation, he will examine your facial structure and note your nasal proportions in relation to your other facial features. Dr. Ovchinsky performs a thorough examination of the external and internal nasal anatomy, including nasal endoscopy. This thorough exam accurately assesses nasal problems and helps to determine the optimal treatment plan. Once he knows your medical and surgical history, and has confirmed that a revision procedure is the right choice for you, he will formulate your treatment plan, and schedule your surgery. Dr. Ovchinsky will also take the photos of your nose and simulate a projected result of your revision surgery. While computer simulation is never a guarantee of the final result, Dr. Ovchinsky prides himself of delivering the results that are very close, and often even better, then the simulated photographs.
Read more about revision rhinoplasty on Dr. Ovchinsky's blog. And when you're ready, request an appointment at Plastic Surgery of Short Hills by calling (718) 646-1234.
Preparation
Before your surgery, we'll give you specific guidance to prepare. Typically, these instructions include the following.
Stop smoking at least two weeks before your surgery date. The longer the better.
Arrange transportation to and from the surgical facility with a friend or family member.
Speak with your employer to schedule time off work.
If you have an eyeglass prescription, we may advise you to order prescription contact lenses, as you will not be able to wear glasses that rest on the bridge of your nose for several weeks.
Procedure
Dr. Ovchinsky conducts surgery at three locations, Livingston Surgery Center, NJ, North Fullerton Surgery Center, NJ, and New York Eye and Ear Infirmary of Mount Sinai.
The open approach and the closed approach are used in rhinoplasty. But in most cases, the open approach is better to accommodate a more complex revision procedure. Dr. Ovchinsky makes a small incision at the base of the nose between the nostrils called a trans-collumellar incision. He then lifts the soft tissue of the nose to reveal the structures below and alter them as necessary.
Reconstructive Grafts
Cartilage usually serves as a building block in rhinoplasty surgery: it may be needed to alter or replace some structures, to provide more support and to straighten the nose. On a primary rhinoplasty, this cartilage is harvested form the nasal septum. Revision rhinoplasty patients may not have enough remaining nasal cartilage to make the necessary changes. In these cases, your treatment plan will include cartilage grafts taken from another part of your body. The most common tissue harvest areas are the ribs or the ears. (4) When patients want to avoid cartilage grafts from their own body, Dr. Ovchinsky may suggest cadaveric cartilage, which is an equally safe and effective option.
Compared to your original procedure, a revision rhinoplasty may last considerably longer, as it is a more complex surgery and may require additional time to harvest needed cartilage grafts.
Recovery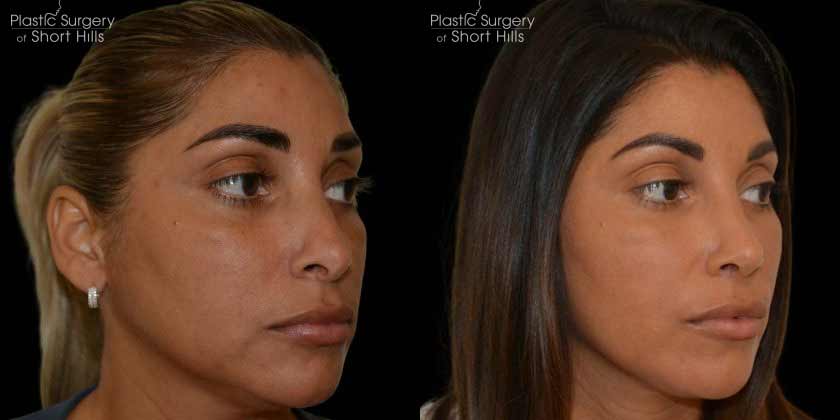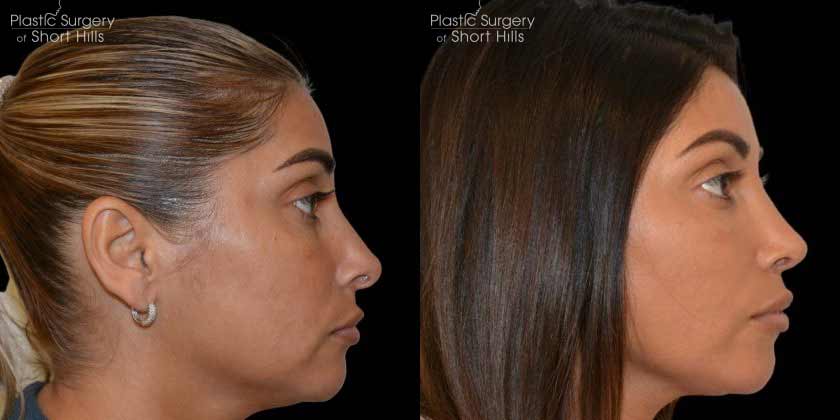 After surgery, you will be monitored closely in the recovery room. Most patients make great progress in a short period and can leave the facility within few hours after the surgery. All patients need to arrange a ride back home with a friend or family member, and have someone stay with them for at least 24 hours following their revision surgery. We will give you specific recovery guidance to ensure you maximize your healing time. You'll return to Dr. Ovchinsky's office for a regular followup appointment to monitor your progress, and nasal cast and stitches are normally removed six to seven days after surgery.
Dr. Ovchinsky's results are not "run of the mill." The techniques he uses are tailored to your specific features, causes minimal pain, has natural results, and is long-lasting. The vast majority of patients express surprise at how little discomfort they have, and how quickly they return to normal activity. Most patients have minimal bruising. Finally, with Dr. Ovchinsky's technique and attention to details during skin closure, scars are typically minimal and are often difficult to see once they have fully matured.
When Will I See My Results?
Over time, your new nose will enable you to feel better about your appearance and boost your confidence. You may see the difference right away, and more so once the swelling goes down within the first few weeks. As with any surgical procedure, it takes anywhere from 6 to 12 months for the results to become final.
Your long-term satisfaction is important to us, and we will be there at every point in your recovery to monitor your progress. Our outstanding team is here if you have any questions or concerns, so please do not hesitate to contact us. Although results take time with rhinoplasty, they are worth it.
Cost of Revision Rhinoplasty in Short Hills, NJ
Because of the uniqueness of each case, the cost of a revision rhinoplasty varies according to the treatment plan set out for the individual. Dr. Ovchinsky will discuss your needs and the details of your revision procedure during your consultation. At this time he will provide you with a quote for your surgery.
Our financing options make covering the cost of elective surgery easier. What's more, if you are from out of state, or coming to us from overseas, we offer some useful information on our website. Call (973) 379-0101 to speak to our office and arrange your revision rhinoplasty consultation.
FAQ
What do I need to avoid before surgery?
If you are on "blood thinners," you will be asked to stop them approximately one week prior to surgery. We also ask that you avoid certain over-the-counter medications and herbal supplements, as they may also have blood-thinning ingredients. Importantly, you must also completely quit smoking at least two weeks before surgery.
What happens after surgery?
Until the effects of the anesthesia wear off, you will stay in our recovery room. Once you are stable, your family member or a friend can pick you up. You'll need to rest and relax for the first few days, and keep your head elevated when in bed to reduce swelling. Take antibiotics, pain medicine, antibiotic ointment for the incisions, and, when necessary anti-nausea medication. Expect to start walking, eating, and using the restroom the day after surgery. It will take up to 2 weeks before you start to feel like your old self again, but you can slowly increase your activity each day. You should avoid any strenuous activity for 4 weeks.
Are there any dietary restrictions following surgery?
No. Patients can eat whatever they want. Advance your diet from liquids (fruit juice, milk shakes, etc.) to soft food (pudding, macaroni and cheese, mashed potatoes and gravy, oatmeal, pasta) to solids as tolerated. To prevent dehydration, please drink as much fluid as possible.
References