Lip Lift
Conveniently located to serve the areas of New Jersey and New York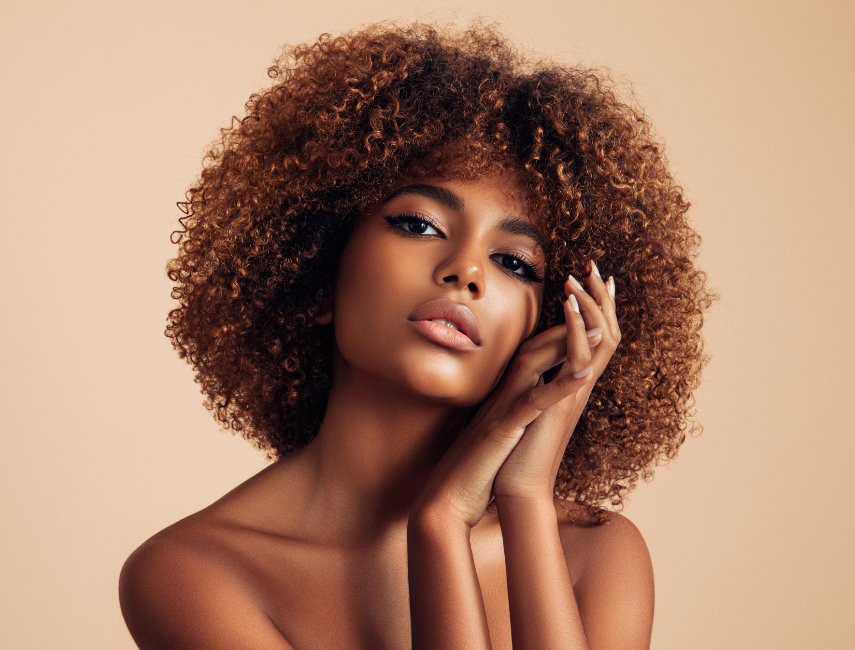 A lip lift is a surgical procedure that shortens the space between the nose and lip to augment the size of the upper lip. Between the lips and the bottom of the nose is a central dip called the philtrum. The red area of the lips is the vermillion, which, as the name suggests, is red in color. This is a highly vascularized area covered by thin skin. (1) And this is the very area you will emphasize with a lip lift. Also known as cheiloplasty, this procedure increases the amount of visible vermillion upper lip and rebalances the ratio of lip to skin beneath the nose. This helps the lips look more youthful and full. 
Demand for lip augmentation has exploded in recent years. Full lips are very popular, with more patients than ever before wishing to accentuate the lips as their most prominent facial feature. In many cases, patients will opt for dermal fillers. Patients opt for surgery over a temporary procedure because the results of a lip lift are permanent.
Contact Plastic Surgery of Short Hills to arrange your appointment with leading plastic surgeon Dr. Alexander Ovchinsky. Discuss your lip lift treatment plan at New Jersey's premier medical practice. Call Short Hills at (973) 379-0101, or our Brooklyn office at (718) 646-1234. Alternatively, fill out a simple inquiry form to get started with your initial inquiry.
Lip Lift Before & Afters
Cheiloplasty vs. Fillers
Cheiloplasty comes from the Greek word kheilos, which simply means "lip". It surgically enhances the appearance of the lip, and changes how much red coloration shows. But what can a lip lift achieve that fillers can't?
Fillers have been used for years to improve the volume of the lips and make the red lip appear fuller. However, there are few downsides of using fillers for lip augmentation: 
Fillers do not help decrease the length of skin above the vermillion.
Fillers not only increase lip volume in a vertical direction, but also horizontally, causing so-called "duck lips" appearance in certain patients.
Fillers are absorbable and injections need to be repeated every 6 months or so.
How Does the Upper Lip Change With Age?
Younger patients may simply want more voluminous lips, but for older patients, age-related tissue changes may require surgical improvement. As we age, the upper lip loses volume, lengthens, and inverts. (2) There is also a loss of volume and skin elasticity as collagen production slows. The fullness and volume of the red portion of the lips lessens, while the length of the white (skin portion) of the upper lip increases.
Types of Lip Lift
Subnasal Lip Lift
The subnasal lip lift is many surgeons' preferred technique. Dr. Ovchinsky removes a sliver of tissue from directly beneath your nose. Because of the shape of the incision, this technique is also known as the "bullhorn lip lift". Upon closure, the upper lip gets pulled up, exposing more of the red lip and the teeth. Using skilled precision, Dr. Ovchinsky provides beautiful lips with only a discreet scar. It is concealed right underneath the nose, curving along the crease where the lower edges of the nasal openings and collumela meet the flesh-colored skin of the upper lip, and usually becomes inconspicuous once healed.
Direct Lip Lift
Quite frequently, lip corners become droopy with age creating a "sad looking" appearance. This can be improved by a direct lip lift. A small portion of the skin right above the corners is excised. When the excision areas are closed, the lip corners get pulled up. The scar is placed in the junction of the red and white lip and usually heals very inconspicuously.
This procedure can also correct certain lip asymmetries by excising a longer and/or wider portion of the skin over the corner that needs more lift. A direct lip lift can be combined with bullhorn lip lift to create a natural-looking, plump upper lip.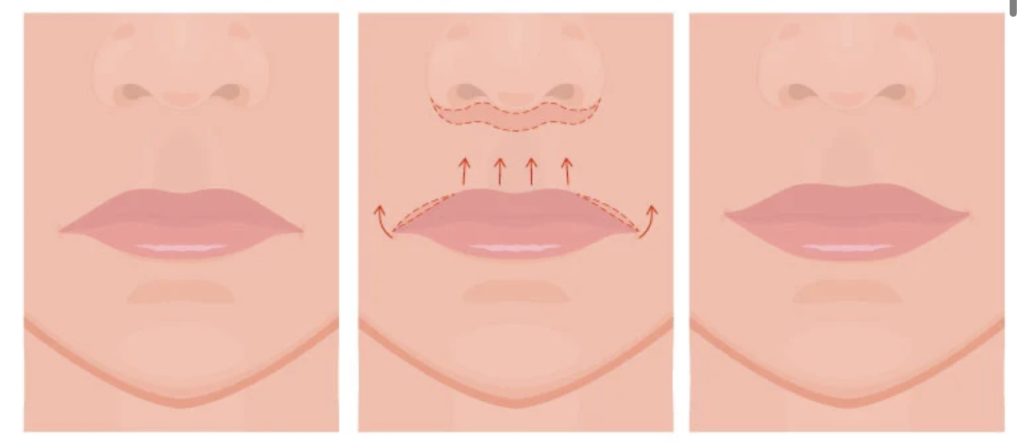 Reconstructive Surgery
Cheiloplasty is also the term for a type of facial reconstructive surgery. Patients with a cleft lip (cheiloschisis) have a condition which is present at birth. A cleft lip can occur in the womb when a baby is developing. The structures that form the upper jaw do not fuse symmetrically as the fetus is growing, so the upper lip can appear as a split or separation somewhere along the middle of the lip. This space may continue into the palate, or the roof of the mouth.  
As well as facial aesthetics, Dr. Ovchinnsky performs many facial reconstructive procedures, including cleft lip surgery. Book a personal consultation at Plastic Surgery of Short Hills here.
Benefits of a Lip Lift
Smoother, More Voluminous Upper Lip
Decreases Excessively Long White Lip
Improves Lip Symmetry
More Youthful Appearance
Short Procedure
Local Anesthesia
Minimal Downtime
No Dietary Restrictions
Permanent Results
Candidates
The ideal candidate for a lip lift has an elongation of the skin between the nose and upper lip: when smiling, the upper lip covers the top front teeth. It is also a good choice if you have a thin upper lip, or lip droop from age. One thing to keep in mind: bullhorn, or subnasal lip lift mostly provides elevation to the central portion of the lip and more limited elevation of the corners of the lip.
Personal Consultation
It is important to have a consultation with Dr. Ovchinsky to determine if you are a candidate. He will address all your concerns, go through recovery and give you an outline of the new improvements you will see at his Short Hills, NJ office. Schedule your lip lift consultation by calling (973) 379-0101, or by completing our online form.
Preparation
If you are on "blood thinners," you will be asked to stop them approximately one week prior to surgery. We also ask that you avoid certain over-the-counter medications. If you are taking herbal supplements, you should stop those as well, as they may contain blood thinning substances. You will have a preoperative appointment well in advance of your surgery when we will review all mediations with you. You may continue taking most routine medications up until the morning of surgery.
While it is possible to drive after the procedure, it is preferable that all patients arrange transportation with a friend or family member to ensure their safety going home.
What to Expect from Your Lip Lift
A lip lift procedure takes less than an hour and is performed under local anesthesia in the office. If you choose to add it to another facial surgery, it will be performed in a surgical facility.
What Is Special About The Way Dr. Ovchinsky Does The Surgery?
Dr. Ovchinsky tailors his surgical technique to an individual patient rather than using the same "run of the mill" surgery on everybody. The technique he uses causes minimal pain, has natural-looking results, and is long-lasting. The vast majority of patients are quite surprised afterward at how little discomfort they have and how quickly they return to normal activity. Most patients have minimal bruising. Finally, with Dr. Ovchinsky's technique and attention to detail during skin closure, scars are typically minimal and are often difficult to see once they have fully matured.
Recovery & Results
After your lip lift surgery, you will want to stay relaxed for the first few days. Follow Dr. Ovchinsky's aftercare instructions carefully to preserve your results.
Keep your head elevated when in bed to help with faster resolution of swelling
Avoid any strenuous activity for 2 weeks.
Slowly increase activity each day
Expect a certain degree of swelling right after the surgery. This will require some downtime, usually around one week. It will take up to 2 weeks before you start to feel like your old self again. You will take medication prescribed by Dr. Ovchinsky, which usually include antibiotics, pain medicine and antibiotic ointment for the incision. You will return to Dr. Ovchinsky's office one week after the procedure to remove your stitches. The "bullhorn" scar will remain very inconspicuous, in most cases.
Cost of Lip Lift in Short Hills, NJ
The cost of your treatment will be assessed after your personal consultation with Dr. Ovchinsky. To arrange your appointment, call us directly at (973) 379-0101 or send us a message online.
Read Dr. Ovchinksy's blog and him on Facebook, Twitter, and Instagram.
FAQ
Are there any dietary restrictions following lip lift surgery?
No. Patients can eat whatever they want after a lip lift. Advance your diet from liquids (fruit juice, milk shake, etc.) to soft food (pudding, macaroni and cheese, mashed potatoes and gravy, oatmeal, pasta) to solids as tolerated. To prevent dehydration, please drink as much juice and nutritional fluid as possible.
When will my stitches be taken out?
Stitches are normally removed seven days after lip lift surgery.
How soon will I be able to exercise after a lip lift?
Patients may return to their regular exercise schedule two weeks after their lip lift procedure.
When will I be able to see my lip lift results?
You may see the difference right away, and more so once the swelling goes down within the first one to two weeks. As with any surgical procedure, it takes anywhere from 6 to 12 months for lip lift results to become final.
References
Abbas HH, Hicks Y, Zhurov A, et al. An automatic approach for classification and categorisation of lip morphological traits. Cray J, ed. PLOS ONE. 2019;14(10):e0221197. doi:10.1371/journal.pone.0221197
Foutsizoglou S. Anatomy of the ageing lip. The PMFA Journal. Published December 2017. https://www.thepmfajournal.com/features/post/anatomy-of-the-ageing-lip