Eyelid Surgery
Conveniently located to serve the areas of New Jersey and New York
Blepharoplasty, or cosmetic eyelid surgery, is a procedure that improves the appearance of the upper and or lower eyelids. The eyes are the main focal point of the face, but with age, the skin around the eyes can sag or droop, a condition called dermatochalasis.[1] A blepharoplasty addresses this delicate skin and the underlying tissues for both cosmetic and functional improvement. Both aging and genetics can lead to undesirable effects such as hooding, drooping, and puffiness. But either way, this can dramatically alter your appearance, and even impact your vision. Eyelid surgery resolves these concerns, reversing the effects of ptosis, which can incorrectly convey that you are tired, older than your years, or unhappy. 
Dr. Alexander Ovchinsky, MD, is double board-certified and completed his fellowship in Facial Plastic and Reconstructive Surgery at Mount Sinai Medical Center. At Plastic Surgery of Short Hills, Dr. Ovchinsky provides excellent results for his patients looking for eyelid surgery in New Jersey and New York. Cosmetic, corrective functional vision impairment (eyelid hooding), and other issues are addressed in our state-of-the-art facility at the hands of one of the leading surgeons in his field. Dr. Ovchinsky and his staff look forward to discussing how blepharoplasty can help you look and feel your best. To schedule an appointment for a consultation, call (973) 379-0101 or fill out this form, and we will contact you at our earliest convenience.
Use those beautiful eyes to stay up to date on the latest topics of interest and emerging techniques in plastic and reconstructive surgery by following our blog!
Before and After Photos
More About Blepharoplasty
Over time the eyes may droop or sag because the skin loses elasticity, muscles weaken, underlying bony supportive structures resorb, and fat pockets begin to bulge, making them more prominent. You cannot do exercises to address the muscles in this area, and potions and serums can only do so much. While blepharoplasty may seem extreme, eyelid surgery is nothing new. Arabian surgeons first excised eyelid skin to improve vision in the 10th and 11th centuries. [1] Furthermore, blepharoplasty has consistently remained one of the procedures most frequently performed by surgeons over the past few decades. [2] 
Blepharoplasty addresses two main areas: the upper and lower eyelids.
Upper Blepharoplasty
The techniques of the upper blepharoplasty correct sagging skin that overhangs the upper lid. Surgery for the upper eyelids removes a small crescent-shaped piece of excess skin via an incision that is carefully concealed in the crease of the eyelid. An excess upper eyelid fat can also be removed at this time, and adjustments can also be made to the inner corner of the eye and as well as the mid-portion if necessary. The incision is carefully closed with a very fine continuous suture that is removed five to seven days postop.
Lower Blepharoplasty
Surgery to correct under-eye "bags" and tighten lower eyelid skin and muscle is called lower blepharoplasty. Different techniques can be performed to tighten loose and sagging skin and remove fat, which creates a natural and refreshed look.
The Benefits of Eyelid Surgery
Our eyes greet the world. When we engage with another person, we scan their face for clues. What clues are your eyes revealing? Bright and engaged eyes change how the world perceives you, how others respond to you, and how you feel.
Fat and loose skin around the eyes usually appears with age. Still, some young people are genetically prone to puffy eyelids, so there is no set minimum or maximum age limit to who can benefit from blepharoplasty. After a fast recovery, your eyes will look youthful and bright, and people will comment on your well-rested appearance. For some patients, an unimpeded line of vision can make everyday life clearer, and easier to navigate.
Candidates for Blepharoplasty
Ideal candidates for blepharoplasty will answer "yes" to some or all of the following questions:
I have droopy upper eyelid skin.
I have puffy bags under my eyes.
I have difficulty applying eye makeup.
My upper eyelid skin has begun to rest on my eyelashes.
I am tired of being asked if I am tired, sad, or sleepy because of swelling and dark circles under my eyes.
I have increasing difficulty with my peripheral vision because of hanging upper eyelid skin.
The skin around my eyes is wrinkled, and I look older than my age.
Additionally, any candidates for surgical procedures at Plastic Surgery of Short Hills must be in good health and non-smokers or willing to quit leading up to, during, and after surgery.
Your Consultation with Dr. Ovchinsky
During your initial consultation with Dr. Ovchinsky, you will have the opportunity to discuss your concerns and issues with your eyes' appearance and function. Next, Dr. Ovchinsky will carefully examine your upper face while sharing and discussing his findings. Then, he will collect your complete medical history and ask you about any medications or herbal supplements you take and whether you've had any previous surgeries. Finally, he will take preoperative photos to provide a "before" for your stunning "after."
Dr. Ovchinsky will share the available surgical techniques he will tailor to the specifics of your case and the steps of your procedure. Then, when you have decided a blepharoplasty is right for you and you would like to proceed, we will have you sign consent forms and provide you with the instructions and prescriptions you will need for recovery. Please note that you may need medical clearance for surgery approved by your primary care physician, including blood work, chest X-ray, and an EKG test. You may also need a preoperative evaluation and clearance by your ophthalmologist.
The finalization of your full payment or financial arrangement must be completed before surgery.
Preparing for Surgery
On the day of your surgery, please arrive at the surgical facility accompanied by a family member or friend. Do not drink or eat anything after midnight the night before your surgery for the procedures performed under general anesthesia or IV sedation. If your surgery is planned to be performed under local anesthesia, it is ok to have a light snack the morning of. First, we will check you in and then Dr. Ovchinsky will mark your eyelids for surgery. When you are ready to proceed, we will escort you to the operating suite. In most cases, blepharoplasty is an outpatient procedure performed in around an hour for upper blepharoplasty and around two hours for upper and lower blepharoplasty. Blepharoplasty can be performed using only local anesthesia in the office, and majority of our patients undergoing upper blepharoplasty elect this option. While lower blepharoplasty can also be performed under local anesthesia only, many patients choose to add IV sedation to their anesthesia or undergo general anesthesia to make the experience more relaxing. In this case, the surgery is performed in one of the ambulatory surgery centers close to Dr. Ovchinsky's office, where general anesthesia or IV sedation will be administered by a board-certified anesthesiologist.
The Procedure
Upper Blepharoplasty Approach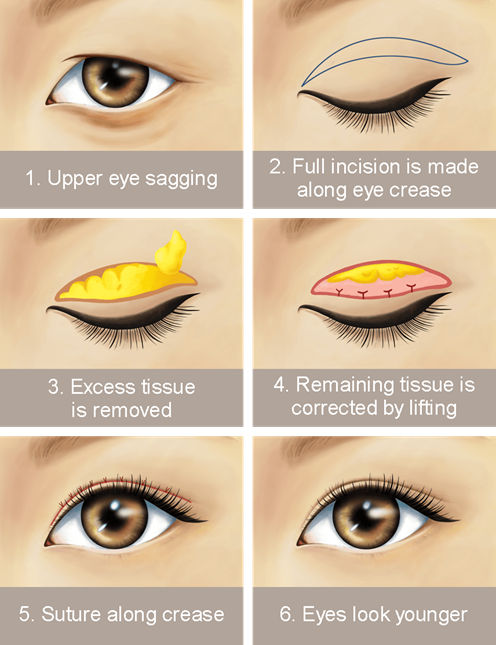 Dr. Ovchinsky performs the upper blepharoplasty via a small incision in the upper eyelid's natural crease. This incision heals very well and will be almost imperceptible when healing is complete. [1] Excess skin of the upper eyelid and a small amount of muscle and fat will be removed. Dr. Ovchinsky closes the incisions with ultra-fine stitches that are placed in a way that eliminates discomfort when removed. 
Lower Blepharoplasty – External (Subciliary) Approach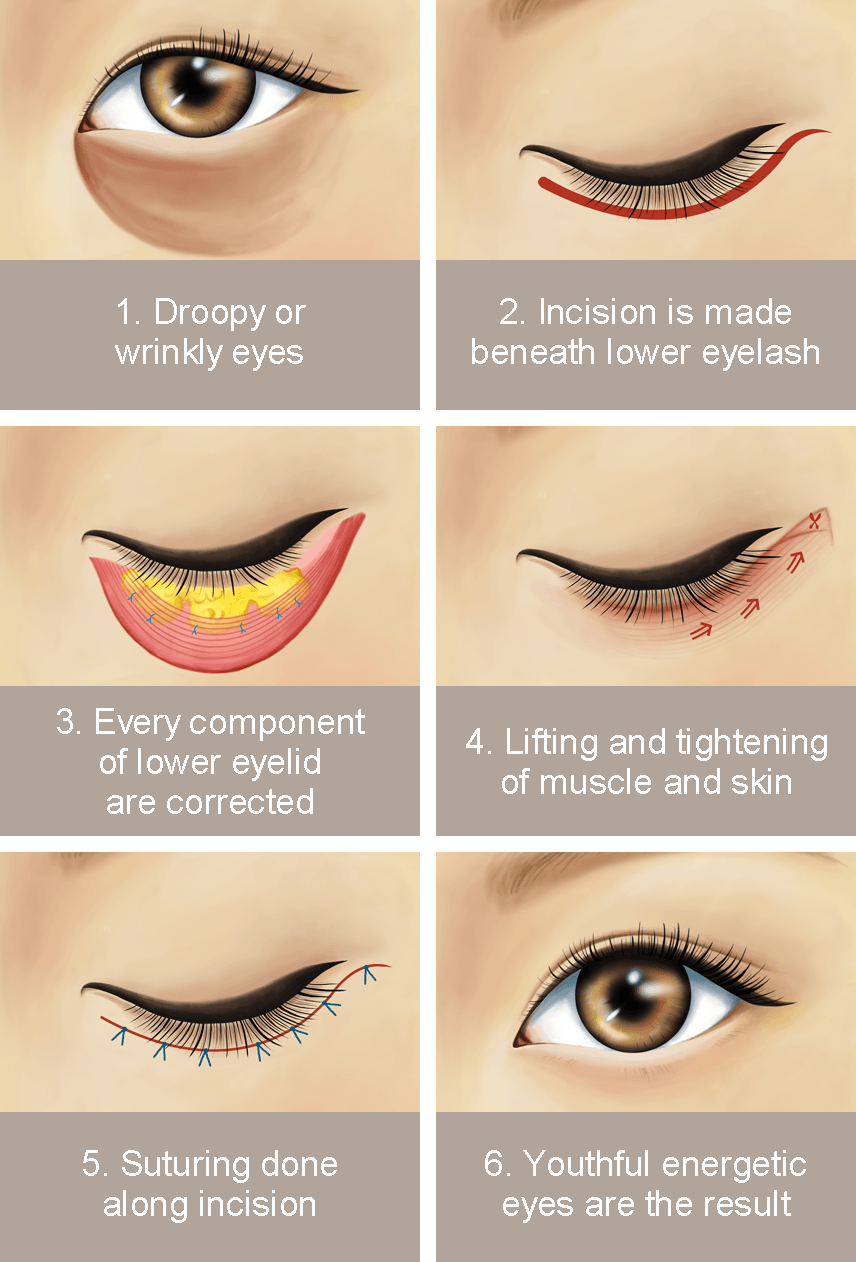 This approach is usually used when not only excess fat needs to be removed, but also excess skin needs to be removed and loose eyelid muscle requires tightening. During the external approach, a small incision is made under the eyelashes and into one of the crows feet wrinkle, allowing for the removal or repositioning of excess skin and fat. An incision is then placed through a portion of orbicularis oculi (eyelid) muscle to access the fat compartments. The excess fat gets removed or repositioned lower into the tear trough area to fill it in. After that, the eyelid muscle is tightened to improve the shape of the eyelid and provide better postoperative support. Resultant excess of the lower eyelid skin is removed and the incision is closed with fine sutures.
Lower Blepharoplasty – Transconjunctival Approach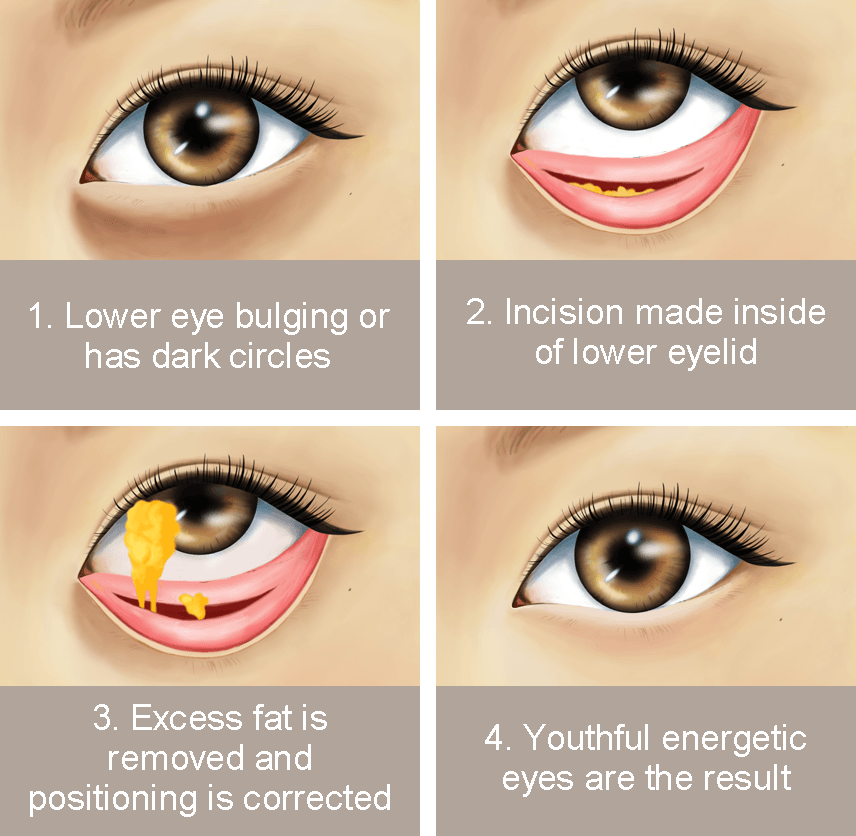 A transconjunctival or internal approach requires a small incision inside the lower eyelid. This procedure can be performed on patients who only require the removal of fat rather than skin. From there, Dr. Ovchinsky removes or repositions the excess fat and closes the incision with fine, absorbable sutures. Typically, scars are invisible after healing as there are no external scars with this approach. [3] There are no changes to the lower lid skin during this approach, only removal or repositioning of fatty tissues.
Often, patients combine eyelid surgery with other procedures for a complete facial rejuvenation, for example, a brow or facelift. However, eyelid surgery improves the overall appearance and is just as often performed as a stand-alone procedure. Dr. Ovchinsky's state-of-the-art blepharoplasty technique provides patients with natural, safe, long-lasting results, producing minimal scars and allowing for the quickest recovery.
Recovering from Eyelid Surgery
Blepharoplasty surgery is ambulatory, meaning you will return home on the day of your surgery. Following eyelid surgery, recovery is quick, and most patients feel they are presentable one week out and return to work around that time. With Dr. Ovchinsky's techniques, patients can be up and about within the first few days. Here is what to expect during recovery from blepharoplasty:
Because the eyelids are sensitive areas of delicate tissue, a certain degree of swelling and bruising is expected; apply cold compresses to the eyelids intermittently during the first 24-48 hours to alleviate these symptoms. About 80% of the swelling will resolve in the first two weeks.
Showering is permitted 48 hours after surgery, increasing your sense of well-being and return to normalcy.
Minimize strenuous activity for the first week.
After your sutures are removed (5-7 days), you can apply camouflage makeup.
Discomfort is mild and easily controlled with oral medication; take as needed.
We recommend supplementing your medication with Arnica Montana, an all-natural remedy for aches and pains, available in our office.
You may experience blurry vision for the first few days after your procedure, and your eyes may be watery or very dry. Still, excessive discomfort, bleeding, infection, or vision changes are infrequent. In the unlikely event that such a problem occurs, you should promptly notify Dr. Ovchinsky's office. As with any plastic surgery procedure, the healing process is gradual, but the benefits will last for years!
How Much Does Eyelid Surgery Cost in New Jersey?
Most commonly, blepharoplasty is a purely cosmetic procedure and, as such, is not covered by insurance. However, in rare instances, when excess skin on the upper lid is severe enough to cause problems with vision, insurance may cover the cost of the upper lid surgery; this will need to be confirmed by a specialized "visual field test." We will go over the cost of your procedure during your consultation.
FAQ
What are the limitations of blepharoplasty?
Blepharoplasty refers to eyelid surgery. However, many patients have concerns with brows that have descended and are too low. Brow lift surgery is an excellent adjunct to blepharoplasty. A brow lift restores the youthful position of the brow, opens the eyes, and reduces the amount of eyelid skin removed during a blepharoplasty. Conversely, patients with puffy lower eyelids due to allergies or other medical conditions like a thyroid imbalance will not see an improvement with blepharoplasty.
Will blepharoplasty get rid of my wrinkles?
Unfortunately, blepharoplasty is not designed to remove crow's feet or to fix sagging brows. Fine skin wrinkles of the upper and lower eyelids may also remain after the surgery because the surgery is designed to address sagging skin while maintaining the functionality of the eyes. Wrinkles around the eyes may require treatment with injectables, lasers, chemical peels, radiofrequency, ultrasound, or other non-invasive tightening procedures.
What is Dr. Ovchinsky's unique blepharoplasty technique?
Dr. Ovchinsky tailors his surgical technique to each case rather than using a "one size fits all" technique. His methods prevent discomfort, produce natural-looking results, and are long-lasting. The vast majority of patients are surprised to find how little pain and bruising they experience and how quickly they return to regular activity. Furthermore, the techniques used by Dr. Ovchinsky produce barely visible scarring.
What are the risks associated with blepharoplasty surgery?
Although there are risks associated with blepharoplasty surgery, they are low. Potential complications include poor scarring of the incisions, bleeding inside the eye, dry eyes, eyelid asymmetry or malposition, vision changes, and difficulty fully closing the eyes.
References
Bhattacharjee K, Misra D, Deori N. Updates on upper eyelid blepharoplasty. Indian Journal of Ophthalmology. 2017;65(7):551. doi:10.4103/ijo.ijo_540_17
American Society of Plastic Surgeons. 2020 Plastic Surgery Statistics Report.; 2020. https://www.plasticsurgery.org/documents/News/Statistics/2020/plastic-surgery-statistics-report-2020.pdf
Bhattacharjee K, Ghosh S, Ugradar S, Azhdam AM. Lower eyelid blepharoplasty: An overview. Indian Journal of Ophthalmology. 2020;68(10):2075-2083. doi:10.4103/ijo.IJO_2265_19