Eyelid Surgery
Conveniently located to serve the areas of New Jersey and New York
The eyes are often the first thing people notice about one's face and are an important aspect of facial attractiveness. Unfortunately, over time an upper eyelid and /or lower eyelid may become "droopy" or "baggy" because the eyelid skin stretches, muscles weaken, and fat pockets bulge and become more prominent around the eyes. The eyebrows also may sag or droop as part of this same process. This most commonly occurs because of the aging process but may also be due to a hereditary condition that runs in your family.
Aesthetically, such conditions may detract from the overall attractiveness of the eyes and cause one to appear "tired", older, and even "unhappy". When severe, these conditions also may cause functional problems, such as impaired field of vision (secondary to eyelid hooding due to very droopy eyebrows and/or baggy upper eyelids) or difficulty wearing glasses (secondary to baggy lower eyelids).
Before and After Photos
Eyelid Surgery Explained
Eyelid surgery is aimed to improve the appearance of the eyelids is termed "blepharoplasty". Blepharoplasty is usually an outpatient procedure performed under local anesthesia, with sedation if desired. General anesthesia may be used as well to add to the patient's comfort.
Goal of Eyelid Surgery
The goal of eyelid surgery is to improve the "baggy" or sagging tissues, which may include skin, muscle, and/or fat pockets. During upper blepharoplasty, typically redundant eyelid skin and fat are reduced. During lower blepharoplasty, either only the fat pockets need to be reduced or the excess skin also may need to be removed and the eye muscle may need to be tightened.
What To Expect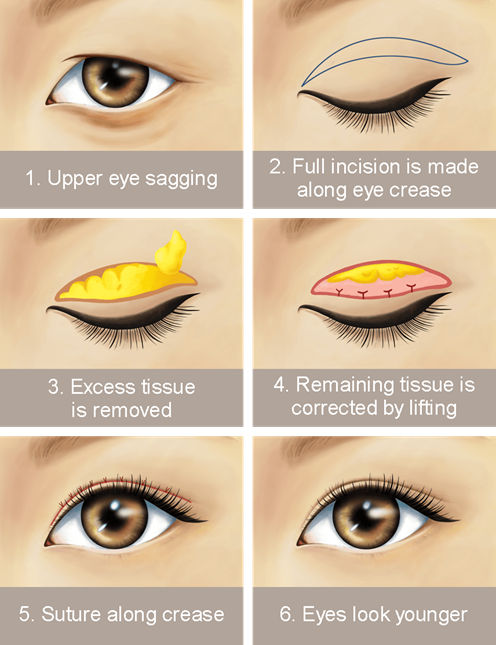 During eyelid surgery, incisions are made in the natural folds of the eyelid so that they are virtually unnoticeable after the tissues have healed. Upon the completion of the procedure, the incisions are closed with fine sutures. If only fatty tissue needs to be removed from the lower eyelid, and not any skin, the surgery can be performed behind the eyelid. This surgery is known as "transconjunctival blepharoplasty" and leaves no visible scar. The procedure lasts roughly an hour and is performed with sedation anesthesia at an accredited out-patient surgical facility. Not infrequently eyelid surgery is combined with other procedures, such as a browlift or facelift for a more complete facial rejuvenation. However, eyelid surgery in and of itself makes a tremendous improvement in one's appearance and is often performed as a stand alone procedure. Dr. Ovchinsky's state-of-the-art blepharoplasty technique provides patients with natural results that are safe, long lasting, produce minimal scars and allow for the quickest recovery.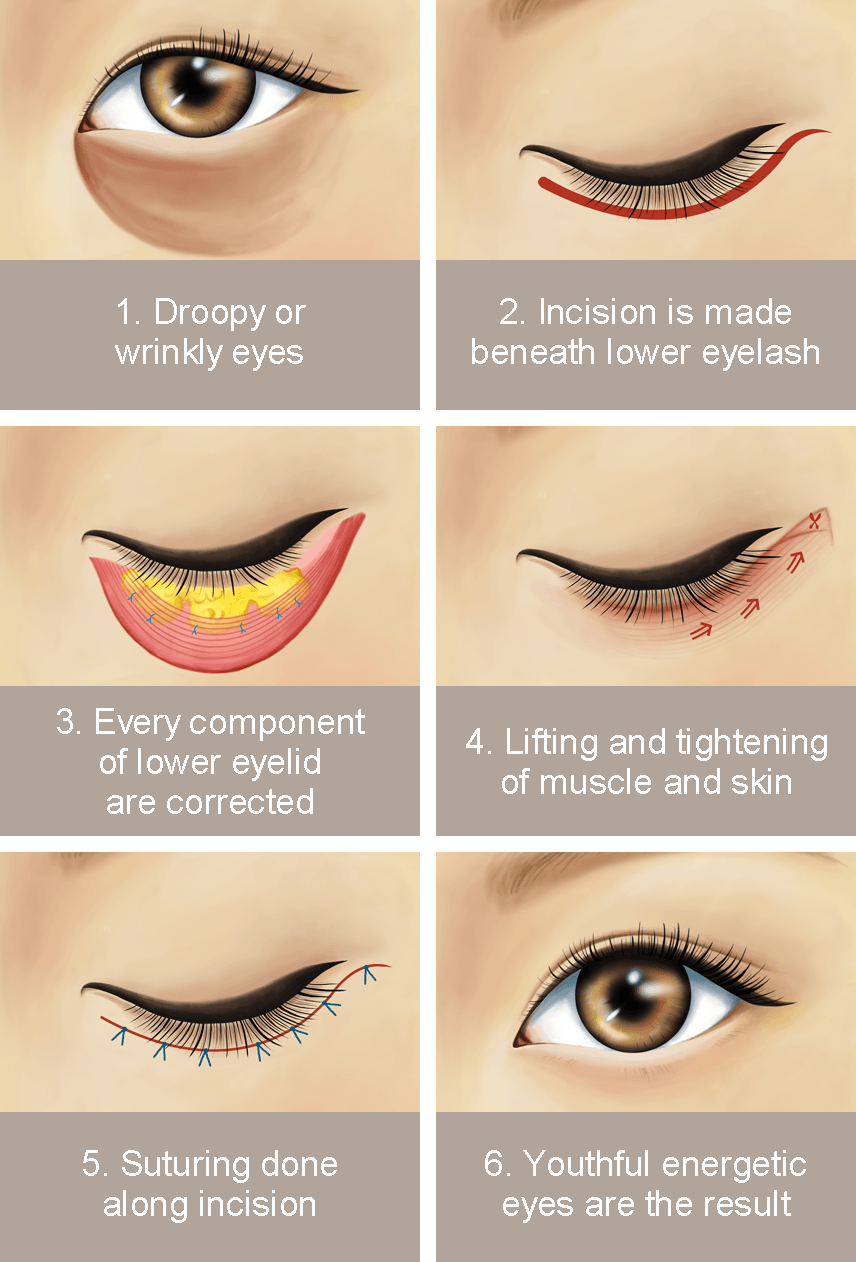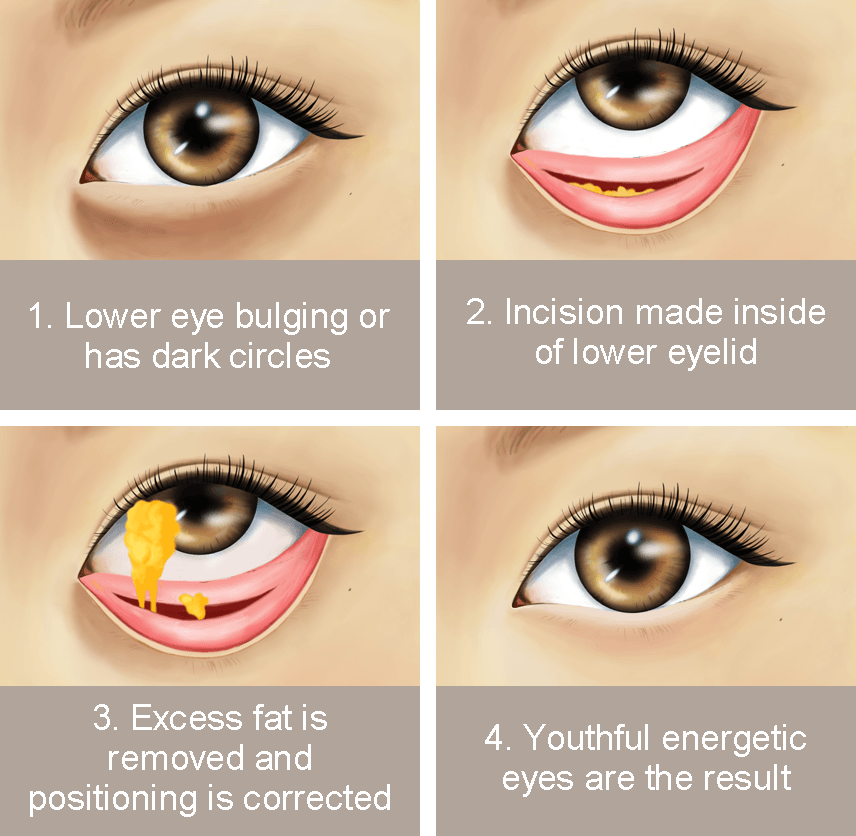 After Eyelid Surgery
Following eyelid surgery, recovery is usually quick and most patients are presentable one week after surgery, however many patients are up and about within the first few days. The eyelids are particularly sensitive, and a certain degree of swelling and bruising is to be expected. Cold compresses are usually applied to the eyelids intermittently during the first 24-48 hours after the surgery to reduce swelling and bruising. During the first week, antibiotic ointment is applied to the eyelids, and strenuous activity should be minimized. Sutures are removed 5-7 days after surgery and camouflage makeup can be applied at one week. Discomfort is mild and easily controlled with oral medication. We also recommend supplementing your pain medication with Arnica Montana, an all-natural remedy for aches and pains that is available How do I know if I need Blepharoplasty?

You may be a candidate for blepharoplasty if you answer "yes" to any of the following:
I have droopy upper eyelid skin and puffy bags under the eyes.
I have more difficulty applying eye makeup.
Excess upper eyelid skin starts to rest on my eyelashes.
Swelling under the eyes and dark circles gives me the appearance of being always tired, sad or sleepy.
I have more difficulty seeing sideways because of the hanging upper eyelid skin.
The skin around my eyes looks wrinkly.
What is a blepharoplasty?

Blepharoplasty, or cosmetic eyelid surgery, is a plastic surgery procedure that improves the appearance of upper and lower eyelids. The upper blepharoplasty is aimed at correcting the sagging skin that overhangs the upper lid. The surgery for the upper eyelids removes mostly skin and a small amount of fat from the inner corner and sometimes mid-portion of the eye. The lower blepharoplasty is aimed at correcting the "bags" that form underneath the eye and tightening the lower eyelid skin. The surgery can be done from an incision underneath the eyelashes (subciliary approach) or through one inside the lower lid (transconjunctival). The fat is then gently removed or repositioned to cover the hollow areas under the eye (tear troughs) and a small amount of skin is the removed. The result is a natural and refreshed look.


How is the procedure performed?

Dr. Ovchinsky performs the upper blepharoplasty via a small incision in the natural crease of the upper eyelid. This incision heals very well and will be imperceptible once healing has occurred. The skin is removed and then a small amount of muscle and fat are removed. The skin is then closed with very fine stitches. These are placed in a way that they can be removed without pain. During lower blepharoplasty (external approach), a small incision is made under the eyelashes. The skin and muscle are elevated, and the fat is removed. A tiny strip of skin is then removed and the muscle is then tightened. The incision is then closed with fine sutures. If lower blepharoplasty is done through internal (transconjunctival approach), a small incision is placed inside the lower eyelid, the excess fat is removed and the incision is closed with fine absorbable sutures. No changes are done to the lower lid skin during this approach.


Are there any limitations to what blepharoplasty can achieve?

Blepharoplasty refers to eyelid surgery. Many times, patient may have brows that have descended and are low. These patients may need a browlift procedure to elevate the brows. Browlift surgery is an excellent adjunct to blepharoplasty surgery as it restores the younger position of the brow thus opening the eye and reducing the amount of skin that needs to be removed with blepharoplasty. Patients that may have puffy lower eyelids due to allergies or other medical conditions (such as thyroid imbalance) will not achieve improvement with the blepharoplasty procedure.

How long is the surgery?

The upper blepharoplasty usually takes about one hour and the lower blepharoplasty about an hour to an hour and a half.

What type of anesthesia is used?

All types of anesthesia can be effectively used for blepharoplasty surgery. The choice between local, or general anesthesia largely depends on the type and extent of the surgery, patient's preference and medical status.

Is there much scarring with a blepharoplasty?

As with any surgical procedure, some scarring is to be expected. However, scarring with blepharoplasty is minimal and practically imperceptible after several months of healing.

At what age can a blepharoplasty be performed?

Fat and loose skin around the eyes usually appears with age, but some young people are genetically prone to it, so there really is no set minimal and maximal age when blepharoplasty is performed.


Will a blepharoplasty get rid of all eye wrinkles?

No. A blepharoplasty is not designed to remove the wrinkles at the outer corners of your eyes (crow's feet) or to fix sagging brows. Fine skin wrinkles of the upper and lower eyelids may also remain after the surgery. These wrinkles may require adjunctive procedures, such as Injectable Fillers, laser or chemical peel, radiofrequency or ultrasound based non-invasive tightening procedures, to further improve their appearance.


What happens during my consultation with Dr. Ovchinsky?

During your initial consultation with Dr. Ovchinsky, you will have an opportunity to discuss all the details about your eyes that are bothersome and need improvement.Dr. Ovchinsky will take your full medical history and will perform a detailed examination of your face and neck while talking it through with you and describing his findings. Your preoperative photos will be taken. Dr. Ovchinsky will then discuss with you the available surgical options tailored to your particular situation. Once you have decided to proceed with the surgery, the consent forms will be signed, and further instructions and prescriptions will be provided. Full payment is made prior to surgery (or financing is arranged). You will have a medical clearance done by your primary care physician which may include blood work, chest X-ray and EKG test.


What do I need to avoid before surgery?

If you are on "blood thinners," you will be asked to stop them approximately one week prior to surgery. We also ask that you avoid certain over-the-counter medications. If you are taking some herbal supplements, you should stop those as well as they may contain blood thinning substances. Also, you have to completely quit smoking at least two weeks before surgery.

What about my daily medications before surgery?

You will have a preoperative appointment well in advance of your surgery when we will review all mediations with you. If you are on "blood thinners," you will be asked to stop them approximately one week prior to surgery. We also ask that you avoid certain over-the-counter medications. You may continue taking most routine medications up until the morning of surgery with a small sip of water.


What happens on the day of surgery?

You will arrive at the surgical facility accompanied by a family member or a friend. You will not have eaten or drank anything since midnight the night before. You will be checked in and your vital signs will be taken. Dr. Ovchinsky will mark your eyelids with a marker. You will then be taken to the operating suite where a line will be started. You will be given a sedative in your I.V. to help you relax and get as comfortable as you can be before the actual procedure.


What happens after surgery?

You will go to the recovery room for a few hours until you are fully recovered from anesthesia. Once you are stable you will be taken home (or to a hotel) by your family member or a friend. You will want to stay relaxed for the first few days. You will need to keep your head elevated when in bed to help with faster resolution of swelling. You should begin to start walking, eating, and using the restroom the day after surgery. Your activity can slowly increase each day but it will take up to 2 weeks before you start to feel like your old self again. You should avoid any strenuous activity for 4 weeks. You will need to take medication prescribed to you by Dr. Ovchinsky, which usually include antibiotics, pain medicine, antibiotic ointment for the incisions, and occasionally anti-nausea medications.


What is the recovery like after blepharoplasty?

The recovery for blepharoplasty is rather mild. The surgery is ambulatory, meaning that the patient is allowed to return home the same day of the surgery. After your surgery, your eyes will be tender, swollen, and slightly sore, and you will probably have some bruising. These should all improve in a few days. Discomfort can usually be controlled with pain medications prescribed by your surgeon. You may experience blurry vision for the first few days after your procedure, and your eyes may be watery or very dry. You will return to see Dr. Ovchinsky on around the fifth post-operative day. At that time, the sutures are quickly and painlessly removed. From that point on, any bruising will start to quickly subside. Women can wear makeup after the sutures are removed. About 80% of the swelling resolves in the first 2 weeks. The remainder takes about 2 months to resolve. However, this is mild swelling that is not perceptible. Most patients are well enough to return to work by the seventh post-operative day.


Are there any dietary restrictions following surgery?

No. Patients can eat whatever they want. Advance your diet from liquids (fruit juice, milk shake, etc.) to soft food (pudding, macaroni and cheese, mashed potatoes and gravy, oatmeal, pasta) to solids as tolerated. To prevent dehydration, please drink as much juices and nutritional fluid as possible.


When will my stitches be taken out?

Stitches are normally removed five to six days after your surgery.


When will I be able to return to work?

Patients are generally able to return to work about one week after blepharoplasty.


How soon will I be able to exercise?

Dr. Ovchinsky recommends that patients do not return to exercise for three weeks after their procedure.


When will I be able to see the results?

You may see the difference right away, and more so once the swelling goes down within the first one to two weeks. As with any surgical procedure, it takes anywhere from 6 to 12 months for the results to become final.


What are the risks or complications that can occur with blepharoplasty?

Although the risks of blepharoplasty surgery are small, the potential complications that may occur with blepharoplasty include the following: poor scarring of the incisions, bleeding inside the eye, dry eyes, eyelid asymmetry, or malposition, vision changes, difficulty fully closing the eyes.


Does insurance cover the cost of blepharoplasty?

Most commonly, blepharoplasty is a purely cosmetic procedure and as such is not covered by the insurance. In rare instances, when the skin excess of the upper lids is so severe as to cause visual problems (confirmed by the special "visual field test"), the insurance may cover the cost of the upper lid surgery.


What is special about the way Dr. Ovchinsky does the surgery?

Dr. Ovchinsky tailors his surgical technique to an individual patient rather than using the same "run of the mill" surgery on everybody. The technique he uses causes minimal pain, has natural results, and is long-lasting. The vast majority of patients are quite surprised afterward at how little discomfort they have and how quickly they return to normal activity. Most patients have minimal bruising. Finally, with Dr. Ovchinsky technique and attention to details during skin closure, scars are typically minimal and are often difficult to see once they have fully matured.

Contact